Two More Hot Days Weather Front Stalls
Hurricane Likely to Strike Louisiana Next Week

Weather in 5/Joe & Joe Weather Show Latest Podcast
Two More Hot Days Weather Front Stalls Hurricane Likely to Strike Louisiana Next Week
Another day of heat and humidity is with us for Thursday as we look at the satellite showing us free of clouds. The launching pad this morning is set with temperatures that bottomed in the upper 60s to mid 70s and that will take us to the upper 80s and lower 90s this afternoon. A weak upper trough approaches this evening and it might set off a scattered thunderstorm in a few odd spots but for the most part and for most of you it is a rain free day.
SATELLITE

There isn't much of anything going on as far as the radars are concerned. A thin band of scattered showers are showing up in parts of upstate Western NY. Otherwise the radars should remain mostly quiet into Friday other than the odd pop up.
WEATHER RADAR


Friday will be another area wide hot and humid day with sunshine. We do have a cold front that will approach Friday night and with it there could be a thunderstorm or two. Highs will reach the upper 80s and lower 90s. This front is going to be a bit of an issue over the weekend in that it will stall and cut our area in half from north to south.
Friday night into Saturday we will see a few clusters of thunderstorms that will develop on the frontal boundary that will last into Saturday morning at least. With the front cutting the area in half areas north of the front will likely deal with cloud issues over the weekend. Near the boundary will see the highest chance for showers and thunderstorms Saturday and Sunday, and south of that boundary it will be very warm to hot and humid.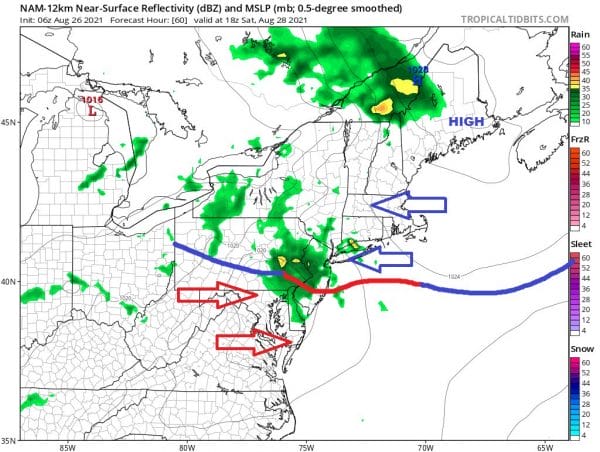 You can see how the forecast map above shows that stalled front east west across the area. To the north it is onshore flow with temperatures in the 70s to lower 80s. To the south it is hot and humid with highs in the upper 80s and lower 90s. The same holds for Sunday. I would describe sky conditions as cloudy to partly sunny both weekend days with probably more clouds north of the boundary and more sun to the south, and the chance for showers and thunderstorms along the frontal zone. It isn't the best of weekends ahead but it isn't the worst either.

Next week brings another round of changes with a cold front approaching on Tuesday that will stall out. Yet again we have another front stalling out over the area. Meanwhile a new tropical storm is developing in the Northwest Caribbean that will head into the Gulf of Mexico and likely become a hurricane as conditions are quite favorable for development.
Models are keying on a Louisiana landfall this time around and it appears with the developing upper flow turning west to east, some of the rain probably gets drawn northward into our area for the middle of next week. That seems to be the early call here. It isn't exactly what we need around here after the rains of Henri last week.
Please note that with regards to any severe weather,  tropical storms, or hurricanes, should a storm be threatening, please consult your local National Weather Service office or your local government officials about what action you should be taking to protect life and property.