Tuesday Best Day All Week Rain A Turn To Colder Wednesday Through Friday

Weather in 5/Joe & Joe Weather Show Latest Podcast
Tuesday Best Day All Week Rain A Turn To Colder Wednesday Through Friday
First things first is we turn off the wind machine. That is now done. Wind advisories are now discontinued. We are still seeing some 15 to 25 mph wind gusts this evening that should subside. Skies are mostly clear on the satellite this evening and we should be clear all night. Most lows tonight will be in the 30s but there will be 20s inland north and west of the big cities. The radars are nice and quiet and will stay that way through Tuesday night.
SATELLITE

Tuesday will be the best day all week. There won't be much wind except for local sea breezes in areas that have south and east facing shorelines which is typical spring. We will have sunshine all day long with nothing more than some passing clouds. Highs will reach the 60s just about everywhere except of course where the sea breeze is a usual afternoon phenomena.
Weather conditions deteriorate Wednesday with an approaching cold front and a wave that will be developing on the front. That wave will move overhead Wednesday night. Cold Canadian air will be dropping in behind the front and wave changing the rain to snow from the mountains of the Central Appalachians northeast into Western Pennsylvania and Western NY. Areas to the east in Northeast Pennsylvania to the Catskills and the upper Hudson Valley will see a change to wet snow especially in elevated areas. That continues into Northern New England. Elsewhere it will be rain and falling temperatures. Wednesday's highs will be in the 60s. Once the front passes, temperatures will fall later Wednesday night.
Thursday begins a stretch of cold weather and of course the wind machine comes back on. The rain ends Thursday leaving us windy and cold with temperatures in the 40s. We will be down in the cold 20s Friday morning with wind chills in the teens at least. Friday will be a day of sunshine and gusty winds at least for awhile. Highs will be just in the low to mid 40s in many places.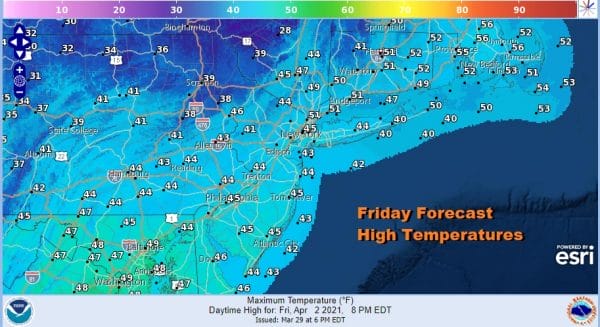 The Easter weekend is looking good with no worse than partly sunny skies both Saturday and Sunday. The wind machine will be off and temperatures will warm as the high moves out to our south. Highs Saturday will rebound back to the 50s after a cold Friday night into Saturday morning. Easter Sunday with a mostly west wind should take temperatures back into the 60s!
MANY THANKS TO TROPICAL TIDBITS FOR THE USE OF MAPS
Please note that with regards to any severe weather,  tropical storms, or hurricanes, should a storm be threatening, please consult your local National Weather Service office or your local government officials about what action you should be taking to protect life and property.