Tropical Storm Warning Eastern CT Eastern Long Island
Tropical Storm Warning Eastern CT Eastern Long Island
Rain & Wind Backing Westward Toward Warning Area
For Long Island east of route 112 and for Connecticut from New Haven East Tropical Storm Warnings continue. The satellite loops this afternoon show that Tropical Storm Hermine has taken its sharp left hook to the northwest and it has been moving slowly but steadily in that direction. Clouds are arcing from off the ocean and backing westward however if you are in Western Long Island and Connecticut west and north you are enjoying a fair amount of sunshine. That is also the case in New Jersey and Eastern Pennsylvania.
Rain bands are moving west on the radar. Winds are picking up in the last few hours in the Tropical Storm Warning area with gusts between 25 & 35 mph reported. Those winds should pick up further this evening and tonight.
TROPICAL STORM WARNING 3PM OBSERVATIONS LONG ISLAND & CONNECTICUT
LONG ISLAND NEW YORK

CITY           SKY/WX    TMP DP  RH WIND       PRES   REMARKS
Farmingdale    MOSUNNY   80  54  40 N17G28    30.05F
MacArthur/ISP  CLOUDY    79  53  40 N18G29    30.02F
Shirley        CLOUDY    75  53  46 N16G37    30.03F
Riverhead      NOT AVBL
Westhampton    PTSUNNY   72  52  49 N23G32    30.02F
Southampton      N/A     73  55  53 N12       29.96F
Bridgehampton  NOT AVBL
East Hampton   FAIR      71  54  54 N20G25    29.99F
Montauk          N/A     73  52  47 N16G28    29.99F



CITY           SKY/WX    TMP DP  RH WIND       PRES   REMARKS
Bradley INTL   PTSUNNY   80  54  40 NE24G30   30.10F
Hartford       CLOUDY    80  53  39 N15G25    30.08F
Danbury        MOSUNNY   79  57  46 N7        30.10F
Wtrbury/Oxford PTSUNNY   75  54  46 NE16G28   30.12F
Bridgeport     CLOUDY    81  54  39 N24G32    30.05F
Meriden        PTSUNNY   79  51  37 N16G28    30.07F
New Haven      CLOUDY    77  51  40 N17G29    30.05F
Chester        FAIR      75  52  43 N14G29    30.05F
Groton         CLOUDY    76  53  44 N26G37    29.98F
Wilimantic     CLOUDY    75  53  46 NE14G25   30.08F

These rain bands will weaken and not make it further west than Central Long Island (fingers crossed). The rest of the area should see relatively quiet weather conditions though the ocean beaches along the New Jersey shore will continue to see rough conditions with high surf of 10 feet or higher and dangerous rip tides.
Tropical Storm Warning Wind Gust Forecast 7pm Monday
Tropical Storm Warning Wind Gust Forecast 7am Tuesday
FiOS1 News Weather Forecast For Long Island
FiOS1 News Weather Forecast For New Jersey
FiOS1 News Weather Forecast For Hudson Valley
LATEST JOESTRADAMUS ON THE LONG RANGE
Weather App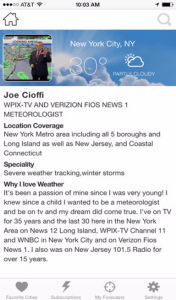 Don't be without Meteorologist Joe Cioffi's weather app. It is really a meteorologist app because you get my forecasts and my analysis and not some automated computer generated forecast based on the GFS model. This is why your app forecast changes every 6 hours. It is model driven with no human input at all. It gives you an icon, a temperature and no insight whatsoever.
It is a complete weather app to suit your forecast needs. All the weather information you need is right on your phone. Android or I-phone, use it to keep track of all the latest weather information and forecasts. This weather app is also free of advertising so you don't have to worry about security issues with your device. An accurate forecast and no worries that your device is being compromised.
Use it in conjunction with my website and my facebook and twitter and you have complete weather coverage of all the latest weather and the long range outlook. The website has been redone and upgraded. Its easy to use and everything is archived so you can see how well Joe does or doesn't do when it comes to forecasts and outlooks.
Just click on the google play button or the apple store button on the sidebar for my app which is on My Weather Concierge. Download the app for free. Subscribe to my forecasts on an ad free environment for just 99 cents a month.
Get my forecasts in the palm of your hand for less than the cost of a cup of Joe!
MENTION JOE CIOFFI AND GET A 5% DISCOUNT