Tropical Storm Warning Central Gulf Coast New Tropical Storm To Form Later Today
Disturbed weather in the southwest Gulf of Mexico has become better organized today and that has prompted the National Hurricane Center to start "potential tropical cyclone" advisories for a developing low that could become a tropical depression or tropical storm later this afternoon or tonight. Tropical Storm Warnings and Watches are posted for the Central and Eastern Gulf Coast.
GULF SATELLITE

We have two satellite views of this system which are showing a broad low pressure area. We don't see a well defined low level circulation as of yet but convection continues to increase and winds of gale force are being reported. This system is complicated by a short wave trough moving across Texas which may form its own separate low as it moves eastward.
FLOATER SATELLITE

The low is located about 600 miles southwest of the mouth of the Mississippi River and the low is moving north at about 5 mph. We can see some of the rains from this low on the Brownsville radar this afternoon which is well north northwest of the center.
LOCAL RADAR BROWNSVILLE TX
You can expect this system to turn northeastward over the next day or two and then head to the Eastern Gulf Coast. It has time to strengthen and conditions are favorable for strengthening. The time of year could argue against this system becoming a hurricane but it could become a wet tropical storm and bring rains to the Eastern Gulf Coast and then into the Southeast US over the weekend.
From this point it would seem that this could complicate our weather here on Sunday with at least lots of clouds. The northern edge of the rain could reach the Delmarva Peninsula and Southern New Jersey as the upper air should favor this sliding to the east northeast off the North Carolina coast.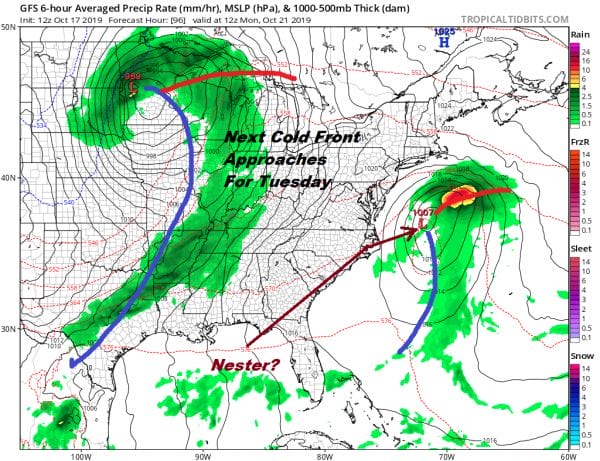 Once inland in the Southeast US this system will likely become post tropical as it heads northeast. The next cold front to the west should push it along to the east rather than lifted northward as the cold front and trough are probably too far west to bring it up the East Coast.
MANY THANKS TO

TROPICAL TIDBITS

FOR THE USE OF MAPS
Please note that with regards to any tropical storms or hurricanes, should a storm be threatening, please consult your local National Weather Service office or your local government officials about what action you should be taking to protect life and property.