Tropical Storm Noreaster Cold Front Puzzles Sunday Forecast
Tropical Storm Noreaster Cold Front Puzzles Sunday Forecast
This weekend brings the second strong upper air trough into the Eastern United States and the associated clouds and threat for rain and thunderstorms. However this is going to be complicated by developments down in the tropics as disturbed weather in the Southwest Caribbean will have a say in how this all plays out. It could be nothing more than a simple cold front or it could be a cold front that slows to a crawl and low pressure develops on it, absorbs the tropical system in one form or another, and produces noreaster conditions here Sunday and Sunday night.
GFS SURFACE MAP SATURDAY NIGHT 8PM
GFS JET STREAM SUNDAY 2PM
Everything for the moment screams problems but there are questions. The southern trough is going to lift northeastward. If that is the case then we will dealing with an intensifying storm system moving up the coast. But the short wave troughs to the north complicate matters. They could remain benign in which case the storm threat increases. However if the systems in the north become stronger and overwhelm the southern part of the jet stream it would suppress everything to the southeast and we would have a cold front come through with some showers and not much more.
EUROPEAN JET STREAM SATURDAY THROUGH MONDAY
Last night's European model was more intense and to the left of the other models which pretty much would lock us in to a rather strong wind and rain event. Today's European model is even deeper and more dynamic than the dynamic GFS as it has no upstream systems to speak of and lifts the entire trough up and around as it approaches the coast. Such a solution would certainly create strong noreaster conditions Sunday into Sunday night.
With regards to the tropical system in the Caribbean whether it develops or not isn't that important. It does create a strong tropical connection of moisture and could enhance the rainfall of this developing extra tropical storm. Even if a tropical system doesn't get involved, the dynamics would force a non tropical storm to develop off the Southeast coast and move north northeastward. Both the European & GFS keep the tropical system as a separate entity well offshore at this point. Again I don't think it really makes a big difference. More model runs to go but it appears the noreaster possibility for Sunday is increasing.
One other thing is that the cold air aloft is likely to produce some snows in the mountains of West Virginia and Western North Carolina.
MANY THANKS TO TROPICAL TIDBITS FOR THE WONDERFUL USE OF THE MAPS
GET JOE A CIGAR IF YOU LIKE!
FiOS1 News Weather Forecast For Long Island
FiOS1 News Weather Forecast For New Jersey
FiOS1 News Weather Forecast For Hudson Valley
NATIONAL WEATHER SERVICE SNOW FORECASTS
LATEST JOESTRADAMUS ON THE LONG RANGE
Weather App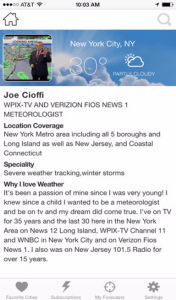 Don't be without Meteorologist Joe Cioffi's weather app. It is really a meteorologist app because you get my forecasts and my analysis and not some automated computer generated forecast based on the GFS model. This is why your app forecast changes every 6 hours. It is model driven with no human input at all. It gives you an icon, a temperature and no insight whatsoever.
It is a complete weather app to suit your forecast needs. All the weather information you need is right on your phone. Android or I-phone, use it to keep track of all the latest weather information and forecasts. This weather app is also free of advertising so you don't have to worry about security issues with your device. An accurate forecast and no worries that your device is being compromised.
Use it in conjunction with my website and my facebook and twitter and you have complete weather coverage of all the latest weather and the long range outlook. The website has been redone and upgraded. Its easy to use and everything is archived so you can see how well Joe does or doesn't do when it comes to forecasts and outlooks.
Just click on the google play button or the apple store button on the sidebar for my app which is on My Weather Concierge. Download the app for free. Subscribe to my forecasts on an ad free environment for just 99 cents a month.
Get my forecasts in the palm of your hand for less than the cost of a cup of Joe!