Tropical Storm Matthew Moving Into Eastern Caribbean
Tropical Storm Matthew Moving Into Eastern Caribbean
Winds 60 MPH
Tropical Storm Matthew continues to organize this afternoon though the latest Air Force plane report has not shown any additional strengthening., We would not expect much strengthening until the system clears the islands later this evening. The plane reported a pressure of 1009 MB and a flight level wind of 62 knots. This justifies keeping the maximum winds at 60 mph for the time being
000
URNT12 KNHC 281740
VORTEX DATA MESSAGE   AL972016
A. 28/17:11:40Z
B. 13 deg 45 min N
  061 deg 12 min W
C. NA
D. 36 kt
E. 113 deg 145 nm
F. 152 deg 39 kt
G. 113 deg 145 nm
H. EXTRAP 1009 mb
I. 20 C / 451 m
J. 24 C / 298 m
K. 20 C / NA
L. NA
M. NA
N. 1345 / 01
O. 0.02 / 2 nm
P. AF303 02FFA INVEST             OB 11
MAX OUTBOUND AND MAX FL WIND 62 KT 342 / 84 NM 17:35:00Z
SLP EXTRAP FROM BELOW 1500 FT
;



The important features of this code are the position. The first line A is date and time so this is observation is from 11 minutes 40 seconds past 12 noon. Line B is the position. Divide the minutes by 6 to get the fractional latitude or longitude. In this report the center was located at 13.7 north and 61.2 west.  D is the maximum wind observed. Line H is the lowest pressure either measured or extrapolated. Then down at the remarks you will often see the maximum flight level wind. In this case it was 62 knots.
..TROPICAL STORM CONDITIONS SPREADING ACROSS PORTIONS OF THE
LESSER ANTILLES...


SUMMARY OF 200 PM AST...1800 UTC...INFORMATION
----------------------------------------------
LOCATION...13.6N 61.3W
ABOUT 25 MI...40 KM SW OF ST. LUCIA
ABOUT 20 MI...35 KM NNW OF ST. VINCENT
MAXIMUM SUSTAINED WINDS...60 MPH...95 KM/H
PRESENT MOVEMENT...W OR 275 DEGREES AT 20 MPH...31 KM/H
MINIMUM CENTRAL PRESSURE...1008 MB...29.77 INCHES


WATCHES AND WARNINGS
--------------------
CHANGES WITH THIS ADVISORY:

None.

SUMMARY OF WATCHES AND WARNINGS IN EFFECT:

A Tropical Storm Warning is in effect for...
* Guadeloupe and Martinique
* St. Lucia
* Dominica, Barbados, St. Vincent, and the Grenadine Islands

A Tropical Storm Warning means that tropical storm conditions are
expected somewhere within the warning.

Interests in Bonaire, Curacao, Aruba, and elsewhere in the Lesser
Antilles should monitor the progress of Matthew.

For storm information specific to your area, please monitor
products issued by your national meteorological service.


DISCUSSION AND 48-HOUR OUTLOOK
------------------------------
At 200 PM AST (1800 UTC), the center of Tropical Storm Matthew was
located near latitude 13.6 North, longitude 61.3 West. Matthew is
moving toward the west near 20 mph (31 km/h). A westward motion with
some decrease in forward speed is expected during the next couple of
days.  On the forecast track, the center of Matthew will move away
from the Windward Islands through this evening, and be over the
eastern and central Caribbean Sea through Friday.

Maximum sustained winds are near 60 mph (95 km/h) with higher gusts.
Gradual strengthening is forecast during the next couple of days,
and Matthew could become a hurricane by Friday.

Tropical-storm-force winds extend outward up to 205 miles (335 km)
primarily to the northeast of the center.  Winds of 39 mph (63
km/h) were recently reported on Barbados, and a weather station on
Martinique recently observed sustained winds of 47 mph (75 km/h)
with gusts to 60 mph (97 km/h).

The minimum central pressure estimated from recent reconnaissance
data is 1008 mb (29.77 inches).


HAZARDS AFFECTING LAND
----------------------
WIND:  Tropical storm conditions will continue to spread over
the southern Leeward Islands and northern Windward Islands within
the warning area this afternoon and continue into this evening.

RAINFALL:  Matthew is expected to produce total rainfall
accumulations of 4 to 8 inches across the Windward Islands and
southern portions of the Leeward Islands through Thursday.  These
rains may produce life-threatening flash floods and mud slides.
Rainfall totals of 1 to 2 inches are expected farther to the north
into the northern Leeward Islands, including the United States and
British Virgin Islands and Puerto Rico.


WINTER 2016-2017 PART 1 OCEAN WATER TEMPERATURES
WINTER 2016-2017 PART 2 ARCTIC SEA ICE AND SIBERIAN SNOW COVER
WINTER 2016-2017 PART 3 NEW JERSEY PREVIEW
WINTER 2016-2017 PART 4 EASTERN PENNSYLVANIA PREVIEW
FiOS1 News Weather Forecast For Long Island
FiOS1 News Weather Forecast For New Jersey
FiOS1 News Weather Forecast For Hudson Valley
LATEST JOESTRADAMUS ON THE LONG RANGE
Weather App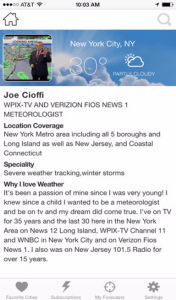 Don't be without Meteorologist Joe Cioffi's weather app. It is really a meteorologist app because you get my forecasts and my analysis and not some automated computer generated forecast based on the GFS model. This is why your app forecast changes every 6 hours. It is model driven with no human input at all. It gives you an icon, a temperature and no insight whatsoever.
It is a complete weather app to suit your forecast needs. All the weather information you need is right on your phone. Android or I-phone, use it to keep track of all the latest weather information and forecasts. This weather app is also free of advertising so you don't have to worry about security issues with your device. An accurate forecast and no worries that your device is being compromised.
Use it in conjunction with my website and my facebook and twitter and you have complete weather coverage of all the latest weather and the long range outlook. The website has been redone and upgraded. Its easy to use and everything is archived so you can see how well Joe does or doesn't do when it comes to forecasts and outlooks.
Just click on the google play button or the apple store button on the sidebar for my app which is on My Weather Concierge. Download the app for free. Subscribe to my forecasts on an ad free environment for just 99 cents a month.
Get my forecasts in the palm of your hand for less than the cost of a cup of Joe!