Tropical Storm Karl & European Model
Tropical Storm Karl & European Model
The sheared look of Tropical Storm Karl continues and so does the west southwest motion  which seems to be moving more southwest late in the afternoon on eye view on the satellite loop. Once Karl gets away from the nearby upper low it should begin to get slowly better organized. Everything seems to be happening on schedule with the upper high building to the north and the escape hatch between 55-60 West closing off. It seems the further south it gets now, the better the chance it makes it to at least 70 degrees west.
Now at first glance at this map of the European a week from today, some might go off the deep end about this. However when you look at what is going on in the upper layers of the atmosphere, it is clear that the threat to the East Coast at this point, is just not there.
First off the trough is too far west into the Plains. Second and more importantly is the upper air structure across Eastern Canada and the Atlantic. The trough and westerlies there actually strengthen to where the westerly winds in the upper layers of the atmosphere drop south of 35 degrees north. The result is that Tropical Storm Karl responds by turning sharply eastward from here. The European has it passing very close to Bermuda as a major hurricane. From there it moves east northeast while a strong cold front approaches the East Coast.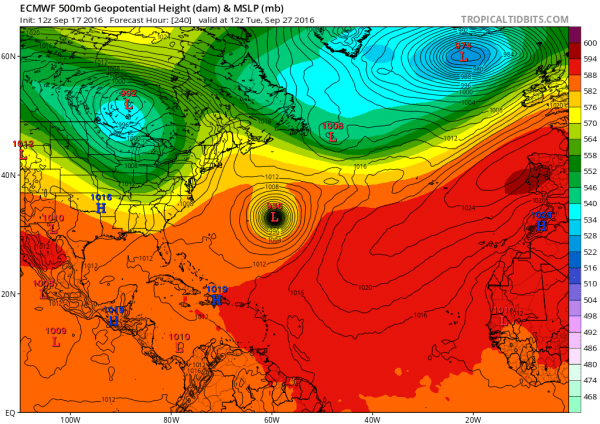 Models are pretty consistent with this idea. The GFS model is not that much different though it has a much less developed tropical system. This may be one among many variables to watch. A lesser developed Tropical Storm Karl may be able to make it further west. Also another variable would be if Tropical Storm Karl is far enough south, it could miss the deepening trough to the north though I rate it a long shot at this point. Karl i think would have to remain well south of 25 degrees north in order for this to have a chance to occur. Also note that the European model does not much with the system moving off the African coast today, which may or may not be correct.
At this point I would say that Tropical Storm Karl continues to be something to watch but not something that we need to concern ourselves with.
FiOS1 News Weather Forecast For Long Island
FiOS1 News Weather Forecast For New Jersey
FiOS1 News Weather Forecast For Hudson Valley
LATEST JOESTRADAMUS ON THE LONG RANGE
Weather App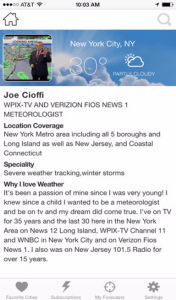 Don't be without Meteorologist Joe Cioffi's weather app. It is really a meteorologist app because you get my forecasts and my analysis and not some automated computer generated forecast based on the GFS model. This is why your app forecast changes every 6 hours. It is model driven with no human input at all. It gives you an icon, a temperature and no insight whatsoever.
It is a complete weather app to suit your forecast needs. All the weather information you need is right on your phone. Android or I-phone, use it to keep track of all the latest weather information and forecasts. This weather app is also free of advertising so you don't have to worry about security issues with your device. An accurate forecast and no worries that your device is being compromised.
Use it in conjunction with my website and my facebook and twitter and you have complete weather coverage of all the latest weather and the long range outlook. The website has been redone and upgraded. Its easy to use and everything is archived so you can see how well Joe does or doesn't do when it comes to forecasts and outlooks.
Just click on the google play button or the apple store button on the sidebar for my app which is on My Weather Concierge. Download the app for free. Subscribe to my forecasts on an ad free environment for just 99 cents a month.
Get my forecasts in the palm of your hand for less than the cost of a cup of Joe!