Tropical Storm Ida Organizing
Could Become A Major Hurricane In Gulf Of Mexico Saturday
Risks Grow For Central Gulf Coast

Weather in 5/Joe & Joe Weather Show Latest Podcast
Tropical Storm Ida Organizing Could Become A Major Hurricane In Gulf Of Mexico Saturday
Risks Grow For Central Gulf Coast
We have been watching a tropical wave in the Central Caribbean since yesterday and today it has rapidly organized into Tropical Storm Ida. When waves become tropical storms quickly it is a sign that the upper air dynamics are very favorable for strengthening. Satellite loops of Ida are showing an expanding area of heavy convection and the signature suggests a strong outflow pattern is developing. Aircraft recon reports on the first flight in Thursday evening found 45 to 50 knot winds on the east side and a well developed closed circulation.
SATELLITE

Ida will be tracking along the west side of a strong Atlantic ridge of high pressure that is forecast to weaken and pivot into the Mid Atlantic states this weekend. Unlike Hurricane Grace of last week which moved across the Caribbean and into the Southwest Gulf missing the US completely, Ida has the opening to move northwestward straight toward the Central Gulf Coast of the US and the model track guidance is pointing to Louisiana as the most likely target.
Upper air conditions in the Gulf of Mexico will be ideal for strengthening with minimal wind shear being forecast by most models. One added part of this equation are the very warm water temperatures. In fact there is a large warm eddy of water in the Gulf of Mexico where water temperatures are in excess of 30 degrees C or 86 degrees F. Water temperatures this warm can easily support a major hurricane (winds 115 mph or higher).
The shelf water in the Northern Gulf of Mexico is even warmer and at the peak of the season with water temperatures off the Louisiana coast close to 90 degrees in some areas. This could add some extra strength or at least help Ida maintain strength before landfall.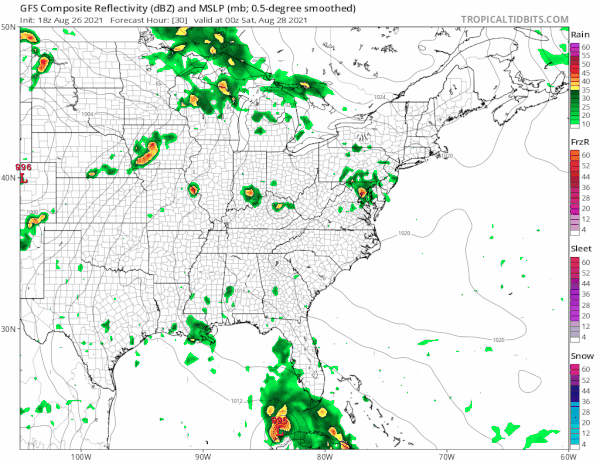 The latest GFS and other global models bring this ashore Sunday afternoon near Southeast Louisiana and then spread heavy rains north and northeastward into the Tennessee Valley bringing another threat of flooding rains to areas that just days ago saw devastating floods from thunderstorms. All the ingredients are here for a major hurricane to develop on Saturday when Ida will be in a prime position to strengthen rapidly as it heads northwest. Needless to say that Central Gulf Coast residents especially in Louisiana should monitor the situation closely and we will likely see hurricane watches go up sometime on Friday.

Please note that with regards to any severe weather,  tropical storms, or hurricanes, should a storm be threatening, please consult your local National Weather Service office or your local government officials about what action you should be taking to protect life and property.