Tropical Storm Ian Moving Back Over Water
Weekend Brings Rain Saturday Lots of Clouds Sunday
The satellite view this morning shows Tropical Storm Ian which was downgraded overnight from a hurricane but it is still a strong system with heavy rains occuring over Northeast Florida and top winds are 65 mph. The center as of 7am on the radar is located very close to Melbourne Florida and it going to move back out over the open waters of the Atlantic where it could start to slowly strengthen. In the meantime here in the Northeast and Mid Atlantic states we are in good shape today and Friday thanks to high pressure to our north and a nice northeast flow of dry cool air.
SATELLITE

WEATHER RADAR

All the action still focuses on Ian and that is no where close to us. Radars are nice and quiet and we will have a good deal of sunshine today. In fact many areas could be cloud free all day long from start to finish with highs mostly in the 60s.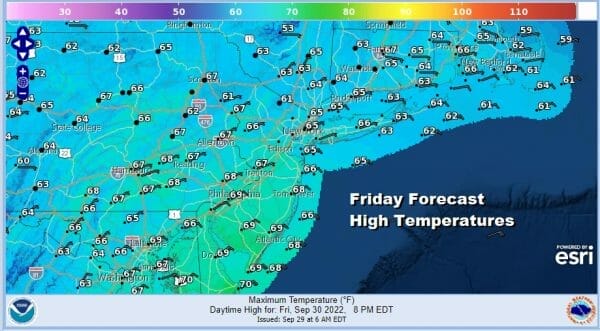 The same holds for Friday when we will see sunshine giving way to some high clouds arriving later in the day and these high clouds are from some of the tropical moisture of Ian which will be near the South Carolina coast, possibly as a minimal hurricane before it makes another landfall. High temperatures in Eastern Pennsylvania to Southern New England will be mostly in the 60s.
Ian will move inland into South Carolina and the center of the storm will weaken as it moves northwestward into Western North Carolina. This is what is left of the core of the storm while a separate area of rain breaks away and moves northward up the coast and reaches as far north as the Lower Hudson Valley to Southern New England late Friday night or early Saturday morning. Right now it appears that the rain will be on the light side on the northern fringe but in the southern half of New Jersey and points southward it could be heavier and on the order of an inch or two.
The rainfall amounts drop off rather rapidly across Northeastern Pa to NYC, Long Island, and Southern New England. There will be a wall of rain with a sharp northern cut off so we will need to watch and see where that cut off line forms. As far as temperatures this weekend we will be in the cool side with highs just in the 60s Saturday with a cool northeast wind.

Sunday is a bit of a tricky day forecast wise because drier air to the north may try to move south and shut the rain off but the rain area itself won't be that far away and it could sneak back in later in the day especially in New Jersey and points southward.  Otherwise it will be a cloudy and rather raw cool day with a northeast wind. Sunday highs also will be just in the 60s.
TROPICAL STORM IAN MOVING OFF FLORIDA EAST COAST,
TROPICAL STORM WARNINGS FLORIDA TO NORTH CAROLINA

Ian is set to emerge into the Atlantic after ravaging Southwest Florida with 150 mph winds and extensive coastal flooding among other destruction. Now a tropical storm, we see it moving offshore. An upper trough will turn Ian more northerly overnight and Friday and this will bring Iam to the South Carolina coast Friday afternoon. It is conceivable that Ian could strengthen back to a hurricane, but it will never get back to the almost category 5 storm it was. It might reach minimal hurricane strength by the time it makes its second landfall
Rainfall is the bigger deal here but at least for now, the 2 to 4 inch or higher rainfalls stay south of New Jersey though they do reach up into Southern Delmarva and into Virginia. Since the core of Ian is going to track into Northwestern South Carolina and into the Central Appalachians, it is highly unlikely that we will see torrential type rains like we saw last year with the core of Ida.
Please note that with regards to any severe weather,  tropical storms, or hurricanes, should a storm be threatening, please consult your local National Weather Service office or your local government officials about what action you should be taking to protect life and property.