Tropical Storm ETA Warnings Flash Flooding Gales South Florida,
Northeast Weather Remains Flawless

 Weather in 5/Joe & Joe Weather Show Latest Podcast
Tropical Storm ETA Warnings Flash Flooding Gales South Florida,
Northeast Weather Remains Flawless
Heavy rain continues over South Florida thanks to Tropical Storm Eta. This is really going to be more about the heavy rains verses the wind. The storm will be heavy like a northeast gale does and it actually has more of a hybrid look than a purely tropical look. The center of Eta is over Cuba and moving northward into the Florida Straits late today. Most of the convection is north of the center with very little going on to the south. Thus a track to the south of the Florida coast is not exactly great news in that it puts South Florida inside the core where all the heavy rain is.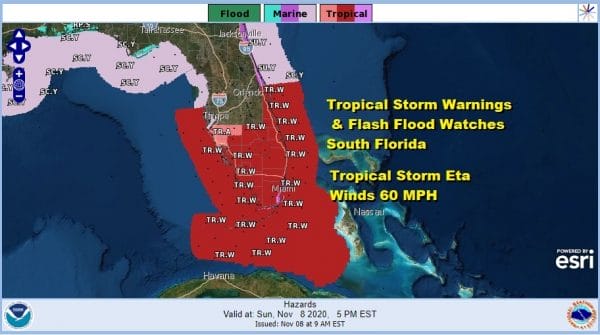 One thing is for sure and that is Eta is going to be around for awhile once it turns westward and heads into the Gulf of Mexico so rain continue to be an issue this week for Florida as well as some gusty winds. Tropcial Storm Warnings are in effect on both coasts and cover a large amount of coastline due to gales well to the north and east of the center on both sides. The satellite picture shows the storm actually now moving off the north coast of Cuba and note how little is going on south of the center.
SATELLITE

REGIONAL RADAR

The regional Southeast Radar and the local radars from Miami and Key West are showing bands of heavy rain moving northwest and westward around the circulation of Eta. Lots of heavy rain is embedded in the patches of rain. This will continue all afternoon and through tonight.
LOCAL RADAR MIAMI FL
LOCAL RADAR KEY WEST FL

10am LOCATION…22.5N 79.2W
ABOUT 235 MI…380 KM SSE OF MIAMI FLORIDA
MAXIMUM SUSTAINED WINDS…65 MPH…100 KM/H
PRESENT MOVEMENT…N OR 350 DEGREES AT 14 MPH…22 KM/H
MINIMUM CENTRAL PRESSURE…993 MB…29.33 INCHES
A Hurricane Warning is in effect for Florida Keys from Ocean Reef to the Dry Tortugas, including
Florida Bay. A Hurricane Watch is in effect for Florida coast from Deerfield Beach to Bonita Beach. A Tropical Storm Warning is in effect for The Cuban provinces of Camaguey, Ciego de Avila, Sancti Spiritus,
Villa Clara, Cienfuegos, and Matanzas, Northwestern Bahamas, including the Abacos, Andros Island, Berry Islands, Bimini, Eleuthera, Grand Bahama Island, and New Providence, Florida coast from Brevard/Volusia County line to Englewoodincluding Florida Bay , Lake Okeechobee. A Tropical Storm Watch is in effect for The Cuban provinces of La Habana, Artemisa, Mayabeque, Pinar del Rio, and the Isle of Youth, Florida coast from north of Englewood to Anna Maria Island.
NATIONAL HURRICANE CENTER FORECAST

The forecast strengthens Eta to a minimal hurricane as passes close to the Florida Keys tonight and Monday. Afterwards the forecast going forward is a tough one with models all over the place. The Hurricane Center turns it north and then northeast back toward the Florida west coast later this week. This is going to be a long duration tropical storm.
Northeast Weather Remains Flawless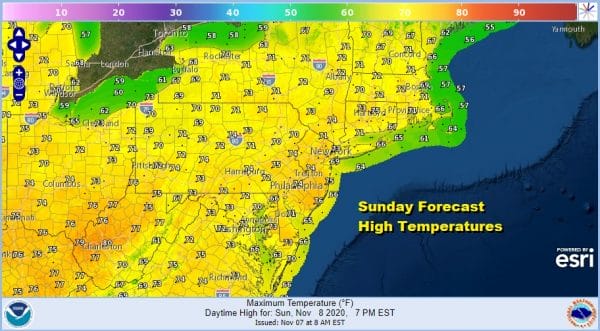 Our weather by contrast remains just about perfect for this time of year. It is another sunny afternoon with highs reaching the low and mid 70s which will mean record highs for some. There are no issues on the satellite or radar to worry about as the weather in the Northeast and Middle Atlantic is high and dry. Even the marine layer has been kept where it belongs out to the east and we have seen a minimal amount of low clouds and fog during nighttime and early morning hours.
SATELLITE

REGIONAL RADAR

We will do it again on Monday with plenty of sunshine and highs again near record low and mid 70s. Tuesday high pressure moves out to the east and we begin to see some clouds coming on the scene. It will still be very warm with highs in the upper 60s and lower 70s but probably well off record levels due to less sun and more of an onshore wind.
We do have a cold front approaching Wednesday and some of the tropical moisture from Tropical Storm Eta will get involved with that front and produce rain later Wednesday into Thursday. Up to an inch or so of rain is possible and will be welcomed after this dry stretch. The front pushes offshore and we should dry out Friday into Saturday before another front comes in. One variable in all this is Tropical Storm Eta which meanders in the Gulf of Mexico and we see changes from to run regarding the outcome. If it turns north and northeast, we could see more moisture get involved with a widespread rain at some point next week however there is no guarantee that this will be the case at this point.
MANY THANKS TO TROPICAL TIDBITS FOR THE USE OF MAPS
Please note that with regards to any severe weather,  tropical storms, or hurricanes, should a storm be threatening, please consult your local National Weather Service office or your local government officials about what action you should be taking to protect life and property.