Tropical Storm Development Possible Next 5 Days
Tropical Storm Development Possible Next 5 Days
 Among many factors that makes tropical storm development possible is a light wind shear environment in the upper levels of the atmosphere. Up until about a week ago this was not possible in the tropical Atlantic thanks to a very strong upper air storm that was creating strong upper air winds throughout the entire Atlantic basin. That upper low is long gone and on the water vapor loop this morning we see a much more conducive environment for tropical storm development. Upper level winds have relaxed. This is going to have an impact on a strong tropical wave moving westward from the African coast. The western edge of that tropical wave is now coming into view in the southeast corner of the satellite loop
The other factor inhibiting development has been the large expansive area of dry air across the Tropical Atlantic. That has also lessened considerably. Below is a tight view of this strong wave as it begins its long trip across the Atlantic.
Now it is one thing to have a tropical wave. It is quite another to see if it will organize. Weather models seem to be growing bullish on the idea but as always with these things it needs to develop a closed circulation first. The National Hurricane Center has raised the probability of development to 50 percent.
Upper air winds and climatology would suggest a westward component of motion for the next several days or more. Unreliable global models are likely to spin up all sorts of solutions in the long range. We would simply suggest to ignore these possibilities at this stage.
MANY THANKS TO TROPICAL TIDBITS FOR THE WONDERFUL USE OF THE MAPS
Weather App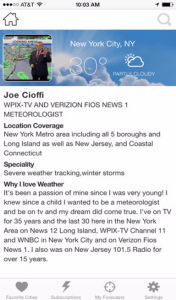 Don't be without Meteorologist Joe Cioffi's weather app. It is really a meteorologist app because you get my forecasts and my analysis and not some automated computer generated forecast based on the GFS model. This is why your app forecast changes every 6 hours. It is model driven with no human input at all. It gives you an icon, a temperature and no insight whatsoever.
It is a complete weather app to suit your forecast needs. All the weather information you need is right on your phone. Android or I-phone, use it to keep track of all the latest weather information and forecasts. This weather app is also free of advertising so you don't have to worry about security issues with your device. An accurate forecast and no worries that your device is being compromised.
Use it in conjunction with my website and my facebook and twitter and you have complete weather coverage of all the latest weather and the long range outlook. The website has been redone and upgraded. Its easy to use and everything is archived so you can see how well Joe does or doesn't do when it comes to forecasts and outlooks.
Just click on the google play button or the apple store button on the sidebar for my app which is on My Weather Concierge. Download the app for free. Subscribe to my forecasts on an ad free environment for just 99 cents a month.
Get my forecasts in the palm of your hand for less than the cost of a cup of Joe!