Tropical Storm Development Likely Later This Week
Tropical Storm Development Likely Later This Week
There are hurricane seasons that produce no tropical storms in the Tropical Atlantic east of 60 degrees west and south of 20 degrees north. However here we are in early July and we may very well see the second tropical storm to come out of that region. Weather models have been showing this idea for days. The National Hurricane Center has raised the probability of tropical storm development to 70 percent over the next 5 days though the risk is low in the next 48 hours. It appears that conditions are favorable for development as a low wind shear upper air environment will be in place. The satellite loop close up shot above and the wide shot below show the system disorganized at the moment. On the wide loop the system is just now appearing on the southeast corner of the loop and it is located south of 10 degrees north latitude.
There is a strong ridge in the Azores and stretches across to the Southwest Atlantic and this should be in place for much of this week. This would favor a west to west northwest motion over the next 5 to 7 days, eventually bringing this system north of the Leeward Islands. Most of the hurricane model guidance shows this.
As far as any threat to the United States is concerned the usual suspects out there will be putting up maps and posts regarding this. A week to 10 days away is just too long a time frame to speculate. Based on what I am seeing in the upper air, it would seem to me that a threat to the US from this is probably a long shot.
The upper air of the long term models would suggest this will be an ocean system. A weakness in the ridge in the Atlantic will exist in the east. This would force a turn offshore of any well developed system. Obviously a lot can change here in terms of timing and depth of the troughs and the strength of ridges. For now however I would not consider this to be something to worry about. We will watch to see if the system develops first.
Weather App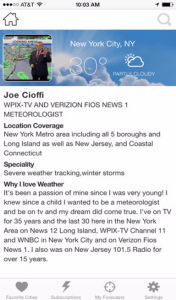 Don't be without Meteorologist Joe Cioffi's weather app. It is really a meteorologist app because you get my forecasts and my analysis and not some automated computer generated forecast based on the GFS model. This is why your app forecast changes every 6 hours. It is model driven with no human input at all. It gives you an icon, a temperature and no insight whatsoever.
It is a complete weather app to suit your forecast needs. All the weather information you need is right on your phone. Android or I-phone, use it to keep track of all the latest weather information and forecasts. This weather app is also free of advertising so you don't have to worry about security issues with your device. An accurate forecast and no worries that your device is being compromised.
Use it in conjunction with my website and my facebook and twitter and you have complete weather coverage of all the latest weather and the long range outlook. The website has been redone and upgraded. Its easy to use and everything is archived so you can see how well Joe does or doesn't do when it comes to forecasts and outlooks.
Just click on the google play button or the apple store button on the sidebar for my app which is on My Weather Concierge. Download the app for free. Subscribe to my forecasts on an ad free environment for just 99 cents a month.
Get my forecasts in the palm of your hand for less than the cost of a cup of Joe!
MENTION JOE CIOFFI AND GET A 5% DISCOUNT