Tropical Storm Beta Crawls West Across Gulf of Mexico Toward Texas Coast
We are being stalked again by another slow moving tropical storm in the Gulf of Mexico. Tropical Storm Beta developed in the Southwest Gulf of Mexico yesterday and is embedded in an environment of weak steering currents. It is sitting in an upper air no mans land in between two upper highs and nothing that is pushing the center of circulation on steady course. This leads to a rather wide area under some sort of watch or warning.

2PM LOCATION…26.6N 92.7W
ABOUT 305 MI…495 KM ESE OF CORPUS CHRISTI TEXAS
ABOUT 245 MI…395 KM S OF LAKE CHARLES LOUISIANA
MAXIMUM SUSTAINED WINDS…60 MPH…95 KM/H
PRESENT MOVEMENT…W OR 270 DEGREES AT 2 MPH…3 KM/H
MINIMUM CENTRAL PRESSURE…994 MB…29.36 INCHES
A Storm Surge Watch is in effect for Port Mansfield, TX to Cameron, LA including Baffin Bay, Corpus
Christi Bay, Copano Bay, Aransas Bay, San Antonio Bay, Matagorda Bay, Galveston Bay, Sabine Lake and Calcasieu Lake. A Hurricane Watch is in effect for Port Aransas Texas to High Island Texas. A Tropical Storm Warning is in effect for* Port Aransas Texas to Intracoastal City Louisiana. A Tropical Storm Watch is in effect for South of Port Aransas Texas to the Mouth of the Rio Grande, East of Intracoastal City Louisiana to Morgan City Louisiana
SATELLITE

Most of the convection has been tilted to the northeast as the system has been undergoing some southwest wind shear. The center had been exposed from the main thunderstorm activity though this afternoon it seems we are seeing some bursting of thunderstorms near the center of circulation.
REGIONAL RADAR

Most of the rain from this system is occurring northeast of the center as the radar shows heavy rains moving into Southeast Louisiana but along the Texas coast there is very little activity going on at the moment. Once Beta begins a steady westward track, rains will begin to develop and spread westward into the warning areas in Texas.
LOCAL RADAR SOUTHERN PLAINS
LOCAL RADAR NEW ORLEANS

Because of the weak steering currents, hurricane models are not all on the same page with tracks to the west for the first 24 to 48 hours and then a smattering of tracks in all sorts of direction. This will increase the threat for heavy rain and flash flooding being the biggest threat from this storm though it could very well strengthen to a minimal hurricane before landfall.
What we have is Tropical Storm Beta basically pinned in between two upper highs. One is weak and sitting over Florida and the Southeast US. The other is actually in the Southwest US and extends into West Texas.
The more active and faster moving jet is well to the north in the Ohio Valley and off the Middle Atlantic coast which will have some impact on Hurricane Teddy to the east. Teddy will turn northward as it approaches that fast flow but Beta just sits trapped and therefore can only manage to drift westward for the next 36 hours as the Nam model shows.
After 36 hours the ridges on both sides break down which makes things even more complicated. The GFS literally causes the storm to basically meander along the Texas coast for the rest of the week and the GFS still shows a closed low level circulation a week from today in Southeast Texas.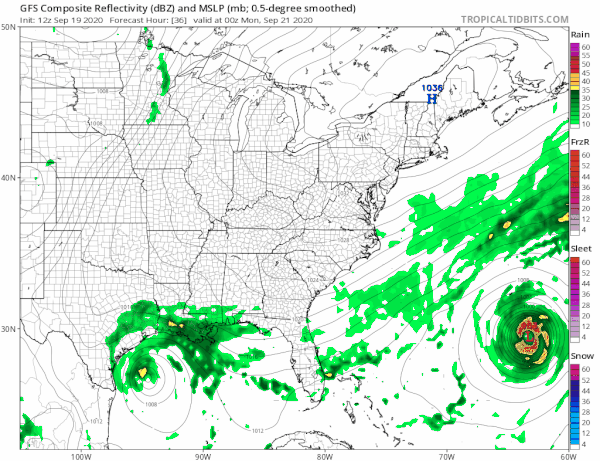 Meanwhile to the east you can see Hurricane Teddy making a close pass to Bermuda but passing 100 miles or so to the east  Monday before racing toward Nova Scotia on Tuesday. We will take a closer look at Teddy later this evening.
MANY THANKS TO TROPICAL TIDBITS FOR THE USE OF MAPS
Please note that with regards to any severe weather,  tropical storms, or hurricanes, should a storm be threatening, please consult your local National Weather Service office or your local government officials about what action you should be taking to protect life and property.