Tropical Storm Arthur Exits North Carolina. Mostly Quiet Week
The rains from Tropical Storm Arthur have ended across Eastern North Carolina and Southeast Virginia as the tropical storm is moving away to the northeast and eventually will make a turn to the east. It will eventually become a post tropical cyclone out in the Atlantic over the next few days. Top Winds are 50 mph but all the strong winds are offshore. You can see the defined center on the satellite picture below. Across the Northeast into the Mid Atlantic states we have a fair amount of cloud cover though it is mainly sunny in Northern New England. The hope is that high pressure to the north forces some of that dry air southward over the next few days giving us some sunshine.
SATELLITE

REGIONAL RADAR

Radar shows the remnant rains from Arthur along the coast east of Delmarva shrinking away as the tropical storm moves east. On the local radars a few stray cells are showing up but Northeast down to the Mid Atlantic are mostly dry. To the west the edge of showers and thunderstorms around the upper low are moving northward and are of no worry to us.
LOCAL RADAR NEW YORK CITY
LOCAL RADAR PHILADELPHIA

Clouds will be around tonight and that should keep temperatures mostly in the upper 40s to lower 50s. Tuesday we should go at least to partly sunny skies as high pressure from the north drains some dry air southward. Highs will be mostly in the 60s though it will be a little cooler along the shore with an ocean wind.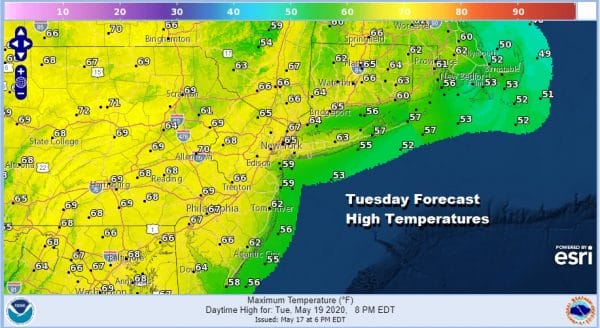 The suppressing nature of the high to the northeast will likely keep things dry at least through Thursday. We should actually see some sunshine from this both Wednesday and Thursday though clouds might be an issue at night and in areas as you head south where the onshore flow brings in some ocean moisture.
Highs will be in the 60s on Wednesday, 60s to near 70 Thursday and we could be into the 70s on Friday.There is a fair chance that rain or showers from the upper air system to the west fall apart before they get here leaving us dry for the entire week. This weekend includes Monday Memorial Day so it is a three day weekend and the first which unofficially kicks of summer. I'm not yet sure how this plays out. Of the three summer holiday weekends this one is usually the one that gives us the most headaches. I will be guardedly optimistic for now though there are risks over the weekend that some showers could show up at some point.
MANY THANKS TO TROPICAL TIDBITS FOR THE USE OF MAPS
Please note that with regards to any severe weather,  tropical storms, or hurricanes, should a storm be threatening, please consult your local National Weather Service office or your local government officials about what action you should be taking to protect life and property.