Tropical Storm Activity Remains Quiet
Tropical Storm Activity Remains Quiet
Even though we have seen 3 named storms since June and 4 for the season (Arlene in April) activity on the Atlantic side of the world remains quiet. This is typical for July. In fact in most seasons we don't even see a named storm in either June or July. The lack of activity is being caused by two obvious factors you can see on the water vapor satellite loop. Right smack in the middle of the loop is a huge storm in the highest levels of the atmosphere. It is dominating the flow across the entire southern half of the Atlantic Ocean. This upper air storm is creating strong westerly and southwesterly winds over a large portion of the tropics. Tropical systems do not thrive in conditions like this and in fact are ripped apart before they get going. Tropical storm activity will increase once that upper low weakes or moves further north. Right now it has been meandering east and west for the last 2 weeks.
The other thing that is going on is that brownish patch on the eastern side of the loop. That is dry air comprised of dust from the Sahara Desert that is moving westward. This is another issue. Even if a tropical system were to get going it would entrain that dry air into its circulation and thereby killing it off. We saw this happen with Tropical Storm Brett, Tropical Storm Don, and with a tropical depression that formed earlier this month.
Meanwhile on the other side in the Eastern Pacific, activity is strong with three named storms and 2 hurricanes on the map moving westward. Tropical Storm Greg is the furthest west and is winding down while Irwin is a hurricane and Hilary is close to major hurricane status with top winds of 105 mph. Usually when the Pacific is this busy, the Atlantic is quiet.
Looking at the upper air picture over the next 2 weeks it seems that the Pacific activity may slow down some though not shut off entirely. On the Atlantic side there might be room for something to form late next week or beyond but we will have to wait for that stubborn upper low to get out of the way. Remember that the vast majority of hurricanes (over 90%) form from August through October with late August to early October being the peak time frame. The lack of activity is nothing unusual and we should draw no conclusions from this regarding conditions going forward.
Weather App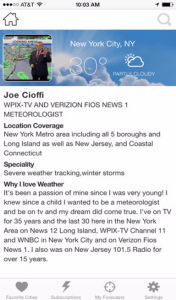 Don't be without Meteorologist Joe Cioffi's weather app. It is really a meteorologist app because you get my forecasts and my analysis and not some automated computer generated forecast based on the GFS model. This is why your app forecast changes every 6 hours. It is model driven with no human input at all. It gives you an icon, a temperature and no insight whatsoever.
It is a complete weather app to suit your forecast needs. All the weather information you need is right on your phone. Android or I-phone, use it to keep track of all the latest weather information and forecasts. This weather app is also free of advertising so you don't have to worry about security issues with your device. An accurate forecast and no worries that your device is being compromised.
Use it in conjunction with my website and my facebook and twitter and you have complete weather coverage of all the latest weather and the long range outlook. The website has been redone and upgraded. Its easy to use and everything is archived so you can see how well Joe does or doesn't do when it comes to forecasts and outlooks.
Just click on the google play button or the apple store button on the sidebar for my app which is on My Weather Concierge. Download the app for free. Subscribe to my forecasts on an ad free environment for just 99 cents a month.
Get my forecasts in the palm of your hand for less than the cost of a cup of Joe!
MENTION JOE CIOFFI AND GET A 5% DISCOUNT