Tropical Downpours Flash Flood Watch Continues NJ Eastern Pa Southward Tonight
Flash Flood Watches continue tonight with some additional counties in New Jersey & Eastern Pennsylvania added to the mix. However with the tropical downpours that are on the radar and a cold front slowly moving through the region, anyone from Eastern Pennsylvania to Southern New England could get a heavy downpour that puts down a quick couple of inches of rain.
SATELLITE

REGIONAL RADAR

The satellite picture shows the arc of ocean clouds and moisture that has barely budged today. The front is pressing in and we are seeing heavy downpours and thunderstorms developing on the regional and local radars. The area is only very slowly sliding eastward so look for threatening weather through tonight until the front moves offshore.
LOCAL RADAR NEW YORK CITY
LOCAL RADAR PHILADELPHIA

Any showers should be long gone by daybreak and we should see decreasing clouds, increasing sunshine, and a lowering of humidity during the day Friday. Highs will be in the more comfortable 70s. That should allow temperatures to fall to the mid 50s to lower 60s by Saturday morning under a clear sky.
The forecast logic for the weekend remains the same. High pressure over New England builds far enough south to keep us in some sunshine on Saturday though the onshore flow might bring in some clouds from the east later in the day. Highs Saturday will be in the low to mid 70s. Then it turns more humid into Sunday as a cold front approaches. Highs will be back into the 80s and there is likelihood of some showers and thunderstorms Sunday afternoon.
Next week could be a wonderful week of weather as another high builds in from the north. The high could be with us for much of next week. Not only does it keep things nice and dry but it will also force Tropical Storm Paulette (which might be a hurricane as it passes Bermuda) to recurve out to the northeast. Monday's highs will be in the 70s. Monday night into Tuesday morning will be the coolest morning we have seen since June with most lows in the 50s with the warmer urban centers probably holding the 60 degree mark.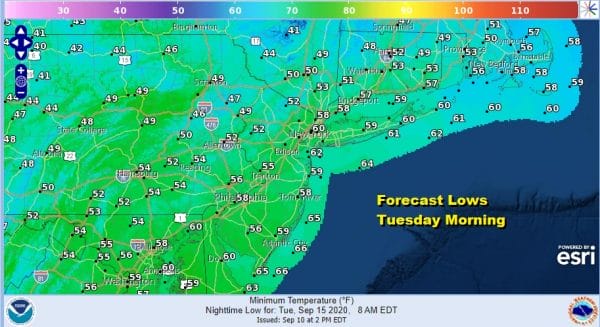 Tuesday's highs will be just in the low to mid 70s and some areas just north of NYC might have a tough time breaking 70. While the first high moves out another one builds right in for the second half of the week and that will keep temperatures and humidity in check until another cold front approaches next weekend!
MANY THANKS TO TROPICAL TIDBITS FOR THE USE OF MAPS
Please note that with regards to any severe weather,  tropical storms, or hurricanes, should a storm be threatening, please consult your local National Weather Service office or your local government officials about what action you should be taking to protect life and property.