Tropical Depression Forming Florida?
Tropical Depression Forming Florida?
Judging from the satellite and radar loops this afternoon and evening something is going on in Northeastern Florida. Disturbed weather a few days ago north of the Leeward Islands found its way to the east coast of Florida. Thunderstorms blossomed this afternoon and it appears that a circulation around low pressure has formed.
Based on the latest surface observations there appears to be some sort of low pressure center just inland of the coast. Winds along the coast are gusting to over 30 mph. However with the center just inland, development will be limited if at all. Now should the center emerge over the coastal waters we could see some development. It is not unusual to see tropical depressions or even tropical storms form right along the immediate coast of Florida and the Gulf of Mexico.
The wind field certainly supports a weak circulation and that northwest wind barb near Putnam pretty much cinches it. Again it would need to move offshore for further development though gusty winds and heavy rains will continue
Most of the convection on the radar is offshore. We don't see any turning on the radar echos that would suggest that this system is getting better organized.
Either way, this system would not have any impact on our weather here in the Northeast or Middle Atlantic states. Here is the latest from the National Hurricane Center.
1. Surface observations, satellite images, and radar data indicate that
an area of low pressure is located just inland near St. Augustine,
Florida.  This system continues to produce a large area of showers
and thunderstorms, with winds to tropical storm force along and just
offshore of portions of the northeast Florida coast. This system
has been maintaining its organization through the afternoon and
early evening, and advisories will likely be initiated later this
evening. The low is expected to move north-northwestward to
northward at 10 to 15 mph tonight, near and parallel to the
northeast coast of Florida. Strong gusty winds, some to tropical
storm force, will continue over portions of the northeast Florida
coast tonight, and heavy rains will continue to spread over central
and northern Florida tonight and Wednesday. Some areas from
northeast Florida to South Carolina could receive 3 to 6 inches of
rainfall with isolated maximum amounts of 10 inches possible. Please
consult your local National Weather Service office for additional
information on this system, including possible warnings.
* Formation chance through 48 hours...high...70 percent
* Formation chance through 5 days...high...70 percent
FROM THE TROPICS TO THE WINTER WE HAVE PART 2 ON WINTER 2016-2017 DEALING WITH ARCTIC SEA ICE AND SIBERIAN SNOW COVER GROWTH AND ITS IMPACT ON WINTERS IN THE EASTERN US.
ALSO FROM SUNDAY THE FIRST IN A SERIES ON WINTER 2016-2017 SHOWING THE IMPACT OF OCEAN WATER TEMPERATURES IN THE ATLANTIC AND PACIFIC OCEANS.
FiOS1 News Weather Forecast For Long Island
FiOS1 News Weather Forecast For New Jersey
FiOS1 News Weather Forecast For Hudson Valley
LATEST JOESTRADAMUS ON THE LONG RANGE
Weather App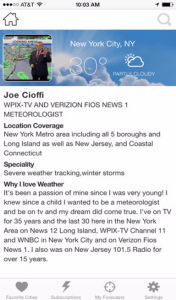 Don't be without Meteorologist Joe Cioffi's weather app. It is really a meteorologist app because you get my forecasts and my analysis and not some automated computer generated forecast based on the GFS model. This is why your app forecast changes every 6 hours. It is model driven with no human input at all. It gives you an icon, a temperature and no insight whatsoever.
It is a complete weather app to suit your forecast needs. All the weather information you need is right on your phone. Android or I-phone, use it to keep track of all the latest weather information and forecasts. This weather app is also free of advertising so you don't have to worry about security issues with your device. An accurate forecast and no worries that your device is being compromised.
Use it in conjunction with my website and my facebook and twitter and you have complete weather coverage of all the latest weather and the long range outlook. The website has been redone and upgraded. Its easy to use and everything is archived so you can see how well Joe does or doesn't do when it comes to forecasts and outlooks.
Just click on the google play button or the apple store button on the sidebar for my app which is on My Weather Concierge. Download the app for free. Subscribe to my forecasts on an ad free environment for just 99 cents a month.
Get my forecasts in the palm of your hand for less than the cost of a cup of Joe!