TROPICAL DEPRESSION 6 FORMS..
FORECAST TO BECOME A TROPICAL STORM TONIGHT
SYSTEM IN THE FAR EASTERN ATLANTIC MOVING WESTWARD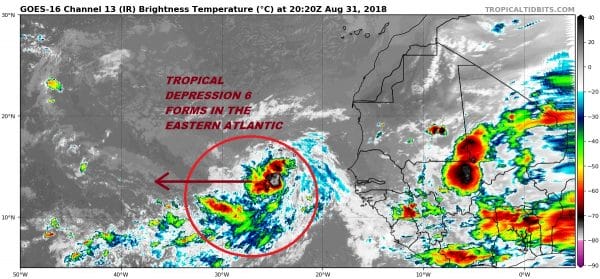 Satellite pictures this afternoon show that the potential tropical cyclone has become organized and has reached tropical depression status. It is likely to become a tropical storm tonight and it will be designated Tropical Storm Florence.Weather models are all in agreement on a west or west northwest course over the next several days and some strengthening along the way. Once it completes its pass south of the Cabo Verde Islands this system is no threat to land as it is along way from any land areas.
We could be at the beginning of a rather active period for tropical systems in the Atlantic Basin. Weather models all seem to at least suggest some tropical systems along the way. The European map above for next Saturday show 3 tropical systems on the map of varying strength. Note however that the European has been a little too bullish lately so we view the specifics with skepticism. However I think it has the general idea correct.
WIDE ATLANTIC TROPICAL SATELLITE

WESTERN ATLANTIC TROPICAL SATELLITE

One other system is on our radar tonight and that is a tropical wave moving over Hispaniola with disorganized showers and thunderstorms. It is headed west northwestward and will be in the Eastern Gulf of Mexico early next week. There are some hints of development on the European model today though the other models seem less bullish on the idea. The upper air suggests development is possible with lower than normal pressures across the Gulf of Mexico and light wind conditions aloft. Regardless of development it looks like some of the rains from this will be moving over Florida late Sunday and Monday.
Please consult your local National Weather Service office at weather.gov for the latest information on any tropical or storms or hurricanes that could be a threat to your area. Consult your local government officials regarding action you may need to take to secure life and property
FiOS1 News Weather Forecast For Long Island
FiOS1 News Weather Forecast For New Jersey
FiOS1 News Weather Forecast For Hudson Valley
LATEST JOESTRADAMUS ON THE LONG RANGE