Tropical Depression 17 Enhancing Rain Moving Northeast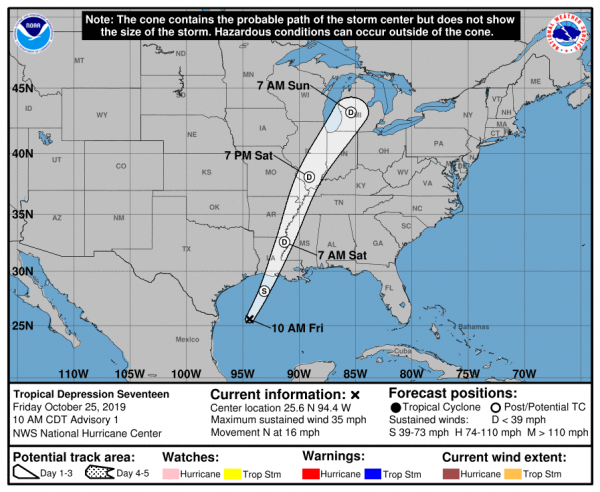 Tropical Depression 17 has formed in the Western Gulf of Mexico but it will not last long. There is a cold front moving off the Texas coast and we will see this low transition into a post tropical system this evening as it moves northeastward toward the Louisiana coast. Tropical or non tropical, it doesn't impact the outcome along the Gulf coast with heavy rains and some gusty winds regardless. However it does energize the feature from the standpoint of rain as low pressure moves from Louisiana to Chicago over the weekend and then northeast into New England. We are on course to see rains here on Sunday. It will be interesting to see whether the rain holds up like a solid wall of rain the way we saw last weekend with Nestor.
There isn't much change in my overall outlook for the weekend and into early next week. As for this evening and tonight the current satellite picture shows lots of clouds over much of the Northeast and Middle Atlantic states and they should be around at least into the first part of tonight before high pressure builds into New England. This will be another instance of dry air from the north and northeast sinking southward so we could see some partial clearing overnight especially from Northern New Jersey northeast to the Hudson Vally, Long Island, and Southern New England with clouds hanging on from South Jersey and Southeast Pennsylvania southward.
SATELLITE

REGIONAL RADAR

We have a stalled frontal boundary virtually overhead and there is a weak disturbance moving across the Eastern Great Lakes through New England. It is producing some light rain well north and upstate NY. We can see a streak on the regional radar there with some echos aloft showing up on the local radars. That rain locally is not reaching the ground.
LOCAL RADAR NEW YORK CITY
LOCAL RADAR PHILADELPHIA

On to Saturday where some areas could see some sunshine to start today. That would be for areas that partially clear out late tonight with more clouds to the south. Gradually clouds take over during Saturday. HIghs will be in the upper 50s to lower 60s. Rain should arrive late Saturday night from west to east so Saturday evening should be dry.
Sunday rains should last into the afternoon before gradually ending from west to east. Highs will be in the 60s Rainfall amounts are generally around an inch to an inch and a quarter with less going south and more going north. Weather models actually are showing amounts double these but we are going to stay conservative at this point given that the low does track rather far to the left.
Next week brings more action as a deep upper trough drops into the Western half of the US with a ridge off the East Coast. This means Monday and Tuesday should be dry in the East and for us we should see some sunshine and clouds for both Monday and Tuesday with highs in the 60s. Then we watch the western trough gradually shift eastward. It is taking longer to come out which will bring another threat for rain in the east late Wednesday and on Thursday Halloween.
Im still unsure exactly how this plays out at the moment. Once this front passes dry and colder air (for this time of year) should move in for Friday and into next weekend.
MANY THANKS TO TROPICAL TIDBITS FOR THE USE OF MAPS
Please note that with regards to any severe weather,  tropical storms, or hurricanes, should a storm be threatening, please consult your local National Weather Service office or your local government officials about what action you should be taking to protect life and property.