Tropical Development Possible Caribbean Next 5 Days
Tropical Development Possible Caribbean Next 5 Days
Latest weather models are continuing to point at 2 systems in the tropics. The first is disturbed weather in the Bahamas and over Florida. Disorganized showers & thunderstorms are being caused by a strong trough and upper air winds are not favorable for development here even though some kind of weak non tropical low may try and form over the next day or two and move westward.
The second area is in the Southwest Caribbean and there is a developing concentration of showers and thunderstorms and has been increasing today. This is part of a large gyre of low pressure that is over that region. Recent weather models are indicating that a separate system will emerge from this gyre and move northwestward into the Northwest Caribbean over the next 2 to 3 days. Conditions there will become more favorable for development as the water vapor loop shows a large upper air low is pulling away to the west relaxing upper air winds in that region.
All weather models are growing more bullish with the possibility of a tropical cyclone developing by Friday. Today's GFS, Canadian, and last night's European model all show this in one form or another and then moving it northward into the Gulf of Mexico.
The jet stream pattern across the United States show the westerlies dropping far enough south to bring this up into the Eastern Gulf of Mexico rather than the Western Gulf of Mexico. It would appear that anything that forms will try and follow the western edge of the upper high that is between the Bahamas & Bermuda,
Longer range models would suggest that this system could eventually work its way northeastward and up the east side of the Appalachians which could make it a big rain producer for the Middle Atlantic states and the Northeast early next week. We will be very curious as to how the European model handles this this afternoon. For now we watch.
MANY THANKS TO TROPICAL TIDBITS FOR THE WONDERFUL USE OF THE MAPS
                                                          GET JOE A CIGAR IF YOU LIKE
Weather App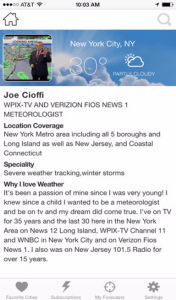 Don't be without Meteorologist Joe Cioffi's weather app. It is really a meteorologist app because you get my forecasts and my analysis and not some automated computer generated forecast based on the GFS model. This is why your app forecast changes every 6 hours. It is model driven with no human input at all. It gives you an icon, a temperature and no insight whatsoever.
It is a complete weather app to suit your forecast needs. All the weather information you need is right on your phone. Android or I-phone, use it to keep track of all the latest weather information and forecasts. This weather app is also free of advertising so you don't have to worry about security issues with your device. An accurate forecast and no worries that your device is being compromised.
Use it in conjunction with my website and my facebook and twitter and you have complete weather coverage of all the latest weather and the long range outlook. The website has been redone and upgraded. Its easy to use and everything is archived so you can see how well Joe does or doesn't do when it comes to forecasts and outlooks.
Just click on the google play button or the apple store button on the sidebar for my app which is on My Weather Concierge. Download the app for free. Subscribe to my forecasts on an ad free environment for just 99 cents a month.
Get my forecasts in the palm of your hand for less than the cost of a cup of Joe!