Tropical Storm Formation Remains Unfavorable For Development Near Term
Tropical Storm Formation Remains Unfavorable For Development Near Term
So far Hurricane Season 2017 has been active believe it or not. It is not uncommon for even in the most active of years to see June and most of July quiet with no named storms or tropical depressions. So far this season if we take Tropical Storm Arlene out of the equation (mid April) we have seen 3 named tropical storms. 2 of them have come from the Tropical Atlantic and were very far to the south. The development of Tropical Storm Brett near 5 degrees north & 50 degrees west in mid June was almost unheard of. Looking at the water vapor loop above there are two very big issues that continues to prevent tropical storm formation
The main issues are two very strong upper lows. One sitting just east of the Bahamas and the monster upper low in the Central Atlantic. These upper lows extend far up into the atmosphere and are creating strong upper air winds across the Atlantic basin. Strong winds aloft or wind shear (increasing winds with height) is a condition that tropical systems abhor. They thrive in light wind shear environments and that is something that at least near term does not exist.
The second issue is the abundance of dry air mainly from the Sahara which is being pushed westward across the Tropical Atlantic south of 20 degrees north. Dry air has been an issue for the two tropical storms and one tropical depression that formed in the Atlantic so far as Brett & Don both were ripped apart by it. Until we see the dry air at least reduced, and until those upper air storms lift out northeastward, tropical storm development will be limited or unlikely in the short term.
The three satellite loops you see here show weak waves moving along in the tropical Atlantic. The Gulf of Mexico right now is just about free of any clouds.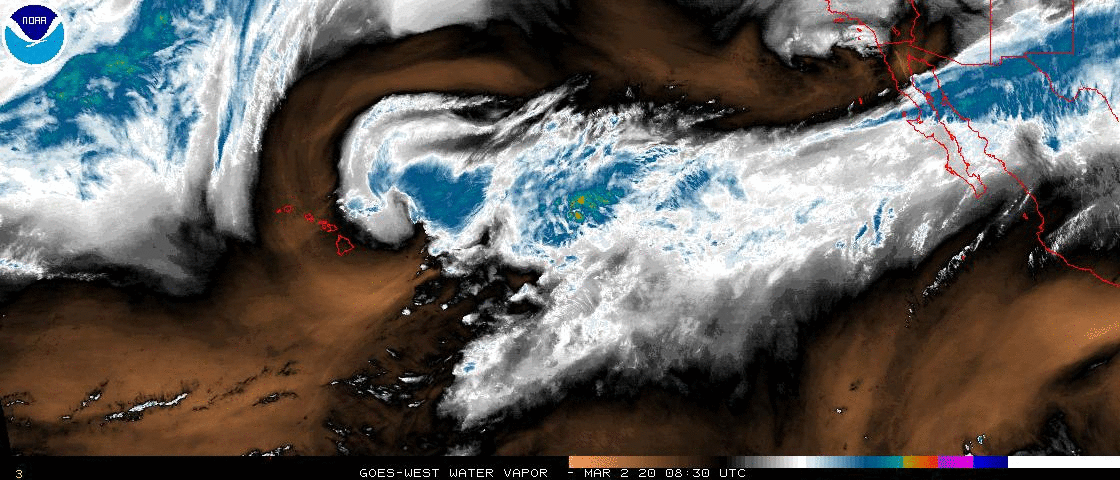 Usually when the Atlantic is quiet the Pacific is very busy and this is indeed the case at the moment. Hurricane Fernanda is now a weak Tropical Storm and will soon be gone. We have a weak tropical depression just to the east of Fernanda. Tropical Storm Greg is just to the east of the depression. Another system to the east of Greg looks like it is getting better organized this afternoon. And there is yet another system to the east of that off the coast of Mexico. A clue going forward about increased activity in the Atlantic will be when we see the Pacific activity begin to subside.
Weather App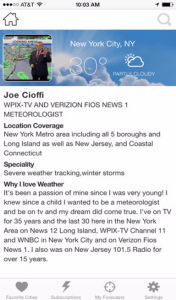 Don't be without Meteorologist Joe Cioffi's weather app. It is really a meteorologist app because you get my forecasts and my analysis and not some automated computer generated forecast based on the GFS model. This is why your app forecast changes every 6 hours. It is model driven with no human input at all. It gives you an icon, a temperature and no insight whatsoever.
It is a complete weather app to suit your forecast needs. All the weather information you need is right on your phone. Android or I-phone, use it to keep track of all the latest weather information and forecasts. This weather app is also free of advertising so you don't have to worry about security issues with your device. An accurate forecast and no worries that your device is being compromised.
Use it in conjunction with my website and my facebook and twitter and you have complete weather coverage of all the latest weather and the long range outlook. The website has been redone and upgraded. Its easy to use and everything is archived so you can see how well Joe does or doesn't do when it comes to forecasts and outlooks.
Just click on the google play button or the apple store button on the sidebar for my app which is on My Weather Concierge. Download the app for free. Subscribe to my forecasts on an ad free environment for just 99 cents a month.
Get my forecasts in the palm of your hand for less than the cost of a cup of Joe!
MENTION JOE CIOFFI AND GET A 5% DISCOUNT