Tropical Activity Should Being To Increase Soon
Tropical Activity Should Being To Increase Soon
By soon I don't mean tomorrow or this week but there are some changes going on across the Tropical Atlantic that are pointing to activity beginning to increase. First off on the water vapor loop below if you have been following this on other posts or on my YouTube Videos, we have been talking about a strong upper air storm that has been sitting in the Atlantic for the last 2 weeks. Today's loop shows that upper low is weakening and moving northeastward. This will create a more relaxed upper air wind environment in the tropical Atlantic that is more favorable or at least less hostile for tropical activity.
However there continues to be an overabundance of dry air across the Tropical Atlantic thanks to dust from the Sahara Desert and that needs to be rectified as well. There is a tropical wave just southwest of the Cabo Verde Islands that is moving slowly west but it is dealing with this dry air issue. Much of the Atlantic to the north of the wave is free of cloud cover. Dry air impedes tropical storm development in a big way.
The other area of note is cloudiness in the Northeast Gulf of Mexico and over Central Floriday which is associated with yesterday's cold front and a frontal wave that has developed on that front. Sometimes under the right conditions you can have that wave separate from the frontal zone and develop into a tropical depression or tropical storm but this usually takes a few days or more to complete the process. Even if this happens the flow along the East Coast is southwest which would take any system northeastward and offshore. We will watch the progress of both these systems over the coming days. The National Hurricane Center rates the chances of development of both these systems as low.
MANY THANKS TO TROPICAL TIDBITS FOR THE WONDERFUL USE OF THE MAPS
Weather App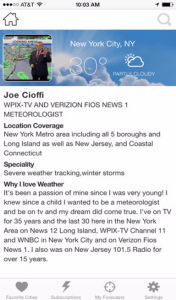 Don't be without Meteorologist Joe Cioffi's weather app. It is really a meteorologist app because you get my forecasts and my analysis and not some automated computer generated forecast based on the GFS model. This is why your app forecast changes every 6 hours. It is model driven with no human input at all. It gives you an icon, a temperature and no insight whatsoever.
It is a complete weather app to suit your forecast needs. All the weather information you need is right on your phone. Android or I-phone, use it to keep track of all the latest weather information and forecasts. This weather app is also free of advertising so you don't have to worry about security issues with your device. An accurate forecast and no worries that your device is being compromised.
Use it in conjunction with my website and my facebook and twitter and you have complete weather coverage of all the latest weather and the long range outlook. The website has been redone and upgraded. Its easy to use and everything is archived so you can see how well Joe does or doesn't do when it comes to forecasts and outlooks.
Just click on the google play button or the apple store button on the sidebar for my app which is on My Weather Concierge. Download the app for free. Subscribe to my forecasts on an ad free environment for just 99 cents a month.
Get my forecasts in the palm of your hand for less than the cost of a cup of Joe!