Tornado Watch Central & South Jersey Much of Southeastern Pennsylvania
Tornado Watch Central & South Jersey
Much of Southeastern Pennsylvania
A Tornado Watch has been issued for all New Jersey Counties south of Route 195 southward into Delaware and then westward into Maryland & Southeastern Pennsylvania. We are beginning to see a developing line of showers and thunderstorms. Then northern part of this line is moving into Northern Pennsylvania and Northern New Jersey, Southeastern NY Long Island & Connecticut.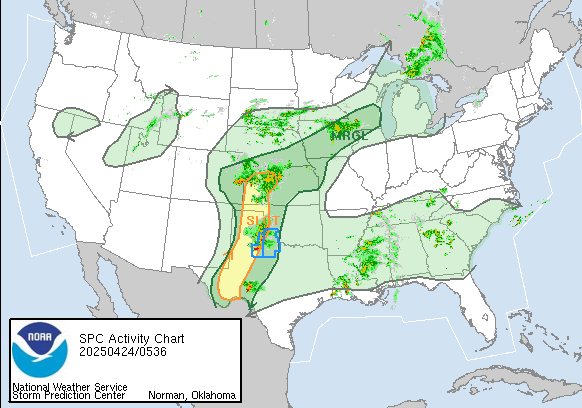 Then to the south on the regional radar is a second line of thunderstorms and it is from this we are likely to see these thundertstorms strengthen over the next several hours as they move east southeastward.

Activity is showing up on all three local radar views below. The NYC radar shows the line of showers with a few heavier downpours moving southeastward. So far we do not see any strong thunderstorm activity develop within this line that is impacting Northeastern Pennsylvania & Northern New Jersey and eventually into NYC, Long IS
The radars from Mount Holly & DC are picking up on the stronger thunderstorms from the second line in Southern Pennsylvania that is moving east southeastward. Some strong cells are beginning to develop here and they will be reaching their peak between 8pm & 10pm.
It would certainly be a good idea to pay attention here and to your local National Weather Service forecast office for warnings as there will certainly be some issued over the next several hours. Weather conditions should start to improve later tonight as these thunderstorms wind down and exit to the east.
FiOS1 News Weather Forecast For Long Island
FiOS1 News Weather Forecast For New Jersey
FiOS1 News Weather Forecast For Hudson Valley
LATEST JOESTRADAMUS ON THE LONG RANGE