Thunderstorms Pass South Nice Dry Day Ahead For Most
Beautiful Father's Day Weekend Likely

Thunderstorms Pass South Nice Dry Day Ahead For Most
Beautiful Father's Day Weekend Likely

An upper air disturbance is moving across Southern Pennsylvania and points south into the Washington DC/Baltimore area this morning.  That disturbance is producing showers and thunderstorms there but it is also helping to drag dry air southward and we are seeing some rather comfortable dew points that have moved into Southern New England to NYC and Northeast Pennsylvania.
It boils down to that red line on the 2pm dew point map. If you are to the north of that red line you have nice dry air dominating while if you are to the south of the red line you are humid and in line for some thunderstorms today as the upper air disturbance we spoke of earlier plays through. There is potential by the way for some of those thunderstorms to be severe. Again this will be mostly to the south of the red line on the map above.
SATELLITE

WEATHER RADAR

Most of the thunderstorm activity to the south will weaken as the day wears on. For everyone else we have partly to mostly sunny skies for today. Most highs will be in the low to middle 80s. After this system to the south goes by, we will see the a nice night of clear skies ahead with lows in the 50s inland and lower 60s elsewhere. Wednesday we start to see a bit of a change as the wind goes southeast. However we should be no worse than partly sunny with highs in the low to mid 80s inland and 70s near the coast.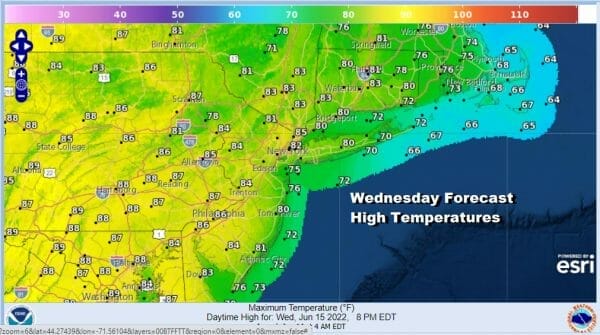 Thursday starts the ball rolling with regards to setting up the Father's Day weekend. We have two cold fronts that will be moving through. The first one will arrive late Thursday into Thursday night with the chance for showers and thunderstorms late in the day and evening. Ahead of it we will be very warm and humid with highs in the 80s.
The second front will arrive on Friday with a strong upper trough that will be dropping off the East Coast over the weekend. Friday will be the "hottest" day of the week ahead of the second front and another chance for a shower or thunderstorm Friday afternoon. Most highs will reach 85 to near 90 degrees. Once the front passes we will see much cooler air arrive for Saturday and especially for Saturday night and Sunday. Strong high pressure builds in and we are looking at sunshine for both days. Perhaps a few clouds will get into the mix. Highs Saturday and Sunday will be in the 70s but Saturday night into Sunday morning will be especially cool with lows in the 50s and even 40s as you work your way inland.
It might be nice if we could hold on to these air masses and get them when we need relief during the hottest part of the summer. However while heat dominates the US from the midsection west we will continue to see weather systems and troughs drop into the Eastern US in the long range and that means that yes it might get hot for a day or so but air mass changes will continue and it just can't get hot in the Northeast and Mid Atlantic for a long stretch of days. This pattern could hold right through the rest of June.
Please note that with regards to any severe weather,  tropical storms, or hurricanes, should a storm be threatening, please consult your local National Weather Service office or your local government officials about what action you should be taking to protect life and property.