Third System Early Next Week Looks South (For Now)
Third System Early Next Week Looks South (For Now)
Dealing with a fierce nor'easter like the one last Friday probably wasn't a big surprise since nor'easters over the last few years have been few and far between so we were due for one. To get a second one within 5 days that buries inland areas with 2 feet or more of snow is admittedly a bit unusual. To get 3 noreasters in 8 days is very very unusual and quite rare. In fact I'm been trying to remember if this has ever happened. It probably has but I can't recall it in my 40 years of doing this. This is all thanks to the unprecedented blocking pattern across Northeast Atlantic. The atmosphere was stretched to an extreme so to get an extreme reaction was inevitable.
Teleconnections indices are bullish for a third system with a positive Pacific North America index and a negative North Atlantic Oscillation (blocking) and a slightly negative East Pacific Oscillation (colder than normal). That said just because this is the case doesn't mean that another snow storm or coastal storm is inevitable. Remember you can have all these indices screaming storm but if the troughs and ridges (lows and highs) are not in the right places, a storm might not materialize or if it does it winds up being in a place that is not threatening for our area.
GFS UPPER AIR FORECAST SUNDAY EVENING 8PM
The pieces to the puzzle are all there. Northern energy is reading to drop into the Great Lakes, a southern stream system is heading for the Carolinas, The blocking high in Eastern Canada is holding, and the ridge in the west is strengthening as it builds northward. On the surface map below the GFS model has a loaded system to the south getting ready.
GFS SURFACE MAP SUNDAY NIGHT 8PM MARCH 12, 2018
The question is whether there is a "phasing" of the northern and southern energy or, if they remain separate, the southern energy lifts northward near the coast or does it get ejected further east. The GFS makes it a close call for Monday with a grazing for coastal areas.
GFS SURFACE MONDAY NIGHT 8PM MARCH 13, 2018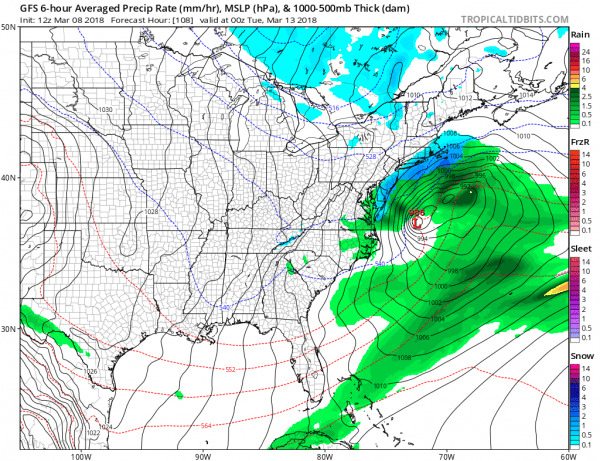 Now before everyone begins jumping off the deep end, the European & NAM model have much flatter looks to them today then the GFS. Unlike the last two event which seemed rather obvious they were going to be big deals, this one has a more complex upper air with too many players. The overall upper air looks less dynamic and flatter overall at least at the moment. For now we will just sit back, watch and wait as we go into the weekend.
SHOP THE JOESTRADAMUS STORE
MANY THANKS TO TROPICAL TIDBITS FOR THE WONDERFUL USE OF THE MAPS
GET JOE A CIGAR IF YOU LIKE!
FiOS1 News Weather Forecast For Long Island
FiOS1 News Weather Forecast For New Jersey
FiOS1 News Weather Forecast For Hudson Valley
NATIONAL WEATHER SERVICE SNOW FORECASTS
LATEST JOESTRADAMUS ON THE LONG RANGE