DOWNLOAD MY NEW FREE JOESTRADAMUS WEATHER APP FOR ANDROID
NO MAJOR STORMS AHEAD THANKS GIVING WEEK WEATHER CALM & COLD
We have arrived at a weekend with sunshine today. Cloud free conditions start the day along the coast while inland we do see some clouds to the north and west in upstate NY and western Pennsylvania. There isn't much going on to speak of this weekend other than a weather front that will approach Sunday night. Enjoy today as we will see plenty of sunshine and temperatures mostly in the 40s to near 50 in some places.
EASTERN SATELLITE

REGIONAL RADAR

Tonight will start of nice and clear but there will be some high clouds coming in late tonight as temperatures settle in the 20s where there is snow cover remaining and low to mid 30s in warmer urban settings. Sunday we will see increasing and thickening clouds as a front nears. Highs will be just in the 40s.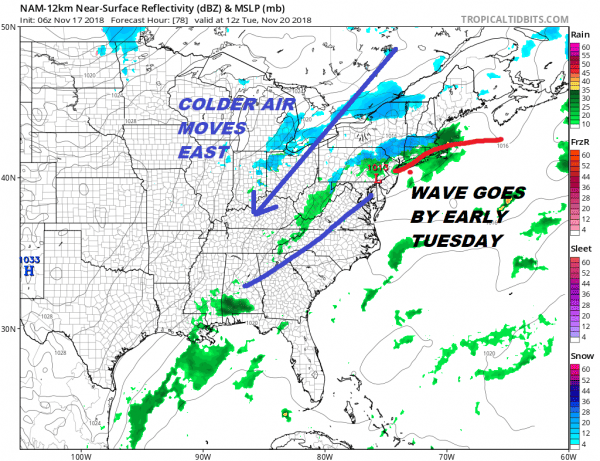 The front is weak and there could brief rain shower with it as it goes by. It will also stall to our south on Monday. Another wave develops on it for Monday night and into Tuesday. As long as it remains weak we will see just a couple of rain or snow showers with that. Cold air follows for the rest of the week. It does look dry however and it appears now that the coldest air will be here for Thanksgiving Day. We should have some sun each day as well. Temperatures on Tuesday will just be into the 40s. Wednesday and Thursday highs in most areas won't get out of the 30s. The nights will be cold with lows in the 20s and even the teens as we get to Thursday and Friday morning. The week does look free of major storms at least. Travelling across much of the US will be easy with no major storms threatening anywhere in the US.
Models are signalling toward storm possibilities at the end of the month and last night's European & Gfs models certainly went down that road. A very blocky and rather cold pattern seems to be taking hold so we will monitoring this carefully. It is still very far out in the long range so we aren't going to get wrapped up in it too much at the moment.
SUBSCRIBE TO PATREON FOR A WEATHER EXPERIENCE FREE OF ADS, EXCLUSIVE VIDEOS FOR MEMBERS ONLY AND MUCH MORE…STARTS AT $2 A MONTH..MESSAGE ME AT ANY TIME

MANY THANKS TO

TROPICAL TIDBITS

FOR THE USE OF MAPS
Please note that with regards to any tropical storms or hurricanes, should a storm be threatening, please consult your local National Weather Service office or your local government officials about what action you should be taking to protect life and property.
LATEST JOESTRADAMUS ON THE LONG RANGE