Thanksgiving Day No Weather Issues Seasonal Temps Showers Friday Rain Sunday
Happy Thanksgiving to all and on this day where weather is not much of an issue either in the Northeast or for that matter most of the nation. We have a dry air mass in the Eastern US. The one difference between yesterday and today is that temperatures will be a little lower with most highs ranging from the upper 40s inland north and west of the warmer urban areas like NYC and Philadelphia and low to middle 50s just about everywhere else. We should have our fair share of sunshine and not a drop of rain will fall anywhere.
SATELLITE

WEATHER RADAR

We do have two weather systems to deal with for the coming days but no issues tonight with clear skies giving way to arriving clouds. Most lows will be in the 30s inland and low to middle 40s warmer urban areas and along the coast. The first of 2 cold fronts will approach on Friday and there is some moisture that will be coming up from thes south and also ahead of the front itself. This gives us the likelihood for  some showers.
This system looks to move right along so a few showers showers will arrive from west to east before daybreak and end from west to east before lunch time. We should see some improvement in the afternoon with clouds giving way to some sunshine. Highs will reach the upper 40s and lower 50s. Friday rainfall amounts look to be generally under a tenth of an inch so we are talking light stuff here.
Moving on to the weekend Saturday will definitely be the better of the two weekend days with sunshine and temperatures right around where they should be for this time of year. High pressure will be overhead so there will be no rain. Highs Saturday will be in the low to mid 50s.
The next cold front and storm system heads our way for Sunday. Low pressure develops in Texas and heads northeast to the Great Lakes with a cold front approaching the East Coast. Right now in terms of timing we should dry into Sunday morning and then rain moves in from west to east late morning and early afternoon. Sunday highs will be in the 50s.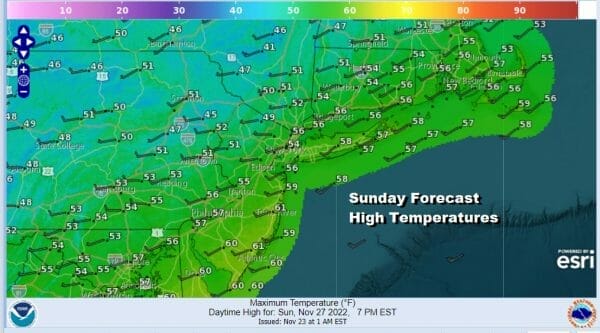 This front will have a little moire in the way of moisture to play with so we could see rainfall amounts of a  quarter to a half inch before this is all said and done. The front moves through quickly from west to east and rain will likely end from late afternoon in Eastern Pennsylvania and early evening Southern New England and Long Island. In case you are travelling Sunday it will be an annoying rain but nothing that is too problematic. Next week sees dry seasonal weather to start off the week with another cold fornt and another chance for rain or showers probably later on Wednesday. Happy Thanksgiving and enjoy the day.
Please note that with regards to any severe weather,  tropical storms, or hurricanes, should a storm be threatening, please consult your local National Weather Service office or your local government officials about what action you should be taking to protect life and property.