Temperatures Rising 90s This Afternoon
HEATWAVE DAY 1
Temperatures Rising 90s This Afternoon
The first of what should be 4 days of 90 plus temperatures has begun. We have lots of sunshine around the area at the moment and this should be the case all day long. Temperatures rising quickly this morning and they will reach 90 to 95 in most places this afternoon
HEAT ADVISORY NEW YORK CITY
EXCESSIVE HEAT WARNING SW NEW JERSEY & SOUTHEASTERN PENNSYLVANIA
We have various advisories and warnings up including an Air Quality Warning. All these advisories and warnings are basically a reminder to all to exercise a little common sense through all this. Here are the temperatures around the area at 10am
Temperatures Rising 90s This Afternoon 10am Temperatures
CITY           SKY/WX    TMP DP  RH WIND       PRES   REMARKS
CENTRAL PARK   SUNNY     84  64  50 CALM      29.90F
LAGUARDIA APRT MOSUNNY   87  66  49 CALM      29.86F
KENNEDY INTL   MOSUNNY   85  68  56 S8        29.88S
NEWARK/LIBERTY MOSUNNY   87  64  46 W3        29.87S
BRNX BOT. GARD   N/A     86  64  48 NE6       29.88F
TETERBORO      SUNNY     87  63  44 CALM      29.86F
$$

NYZ177-179-078>081-061500-
LONG ISLAND NEW YORK

CITY           SKY/WX    TMP DP  RH WIND       PRES   REMARKS
FARMINGDALE    SUNNY     86  65  49 CALM      29.87F
ISLIP          MOSUNNY   86  64  47 CALM      29.86F
SHIRLEY        SUNNY     86  67  52 CALM      29.87F
RIVERHEAD        N/A     82  66  57 NE2       29.85F
WESTHAMPTON    SUNNY     86  60  41 VRB3      29.88F
SOUTHAMPTON      N/A     75  70  83 SW5       29.83F
BRIDGEHAMPTON    N/A     81  66  61 CALM      29.72S
EAST HAMPTON   FAIR      83  64  52 CALM      29.85F
MONTAUK POINT    N/A     81  63  54 W6        29.87F
$$

NYZ052-065-067-061500-
HUDSON VALLEY

CITY           SKY/WX    TMP DP  RH WIND       PRES   REMARKS
WHITE PLAINS   SUNNY     84  64  50 W6        29.88F
NEWBURGH       SUNNY     81  70  69 W7        29.90S
MONTGOMERY     SUNNY     82  69  64 S6        29.88S
POUGHKEEPSIE   SUNNY     82  68  62 SW5       29.86S
ALBANY         MOSUNNY   81  63  54 W8        29.86F
$$

NJZ001-105-106-008-010-013-015-019>022-104-061500-
NEW JERSEY

CITY           SKY/WX    TMP DP  RH WIND       PRES   REMARKS
NEWARK/LIBERTY MOSUNNY   87  64  46 W3        29.87S
TETERBORO      SUNNY     87  63  44 CALM      29.86F
CALDWELL       SUNNY     85  67  54 CALM      29.88S
MORRISTOWN     SUNNY     84  64  51 CALM      29.89S
SOMERVILLE     SUNNY     87  68  52 CALM      29.87S HX  90
SUSSEX         SUNNY     82  67  60 NW3       29.89F
ANDOVER          N/A     81  68  64 CALM      29.91S
TRENTON        SUNNY     85  69  58 CALM      29.88F
MILLVILLE      SUNNY     86  71  60 CALM      29.89F HX  91
ATLANTIC CITY  SUNNY     86  70  58 CALM      29.89S HX  90
WRIGHTSTOWN    NOT AVBL
TOMS RIVER     SUNNY     84  70  61 VRB3      29.89S
BELMAR         SUNNY     85  68  56 CALM      29.89F
$$

PAZ047>061-062-071-061500-
EASTERN PENNSYLVANIA

CITY           SKY/WX    TMP DP  RH WIND       PRES   REMARKS
PHILADELPHIA   MOSUNNY   87  69  54 S6        29.88F HX  91
ALLENTOWN      SUNNY     83  67  58 CALM      29.90F
SCRANTON       SUNNY     81  65  58 VRB3      29.93F
$$

CTZ002-004>006-009-010-012-RIZ004-006-007-MAZ004-011-015-061500-
SOUTHERN NEW ENGLAND
 IN CT

CITY           SKY/WX    TMP DP  RH WIND       PRES   REMARKS
BRADLEY INTL   MOSUNNY   83  64  52 SW6       29.85F
HARTFORD       SUNNY     86  65  49 VRB3      29.86S
DANBURY        SUNNY     83  65  54 W6        29.89F
WTRBRY/OXFORD  SUNNY     82  63  51 NW6       29.92S
BRIDGEPORT     SUNNY     80  68  66 SW8       29.86F
MERIDEN        SUNNY     86  63  45 NW8       29.86F
NEW HAVEN      SUNNY     79  67  66 S5        29.86S
CHESTER        FAIR      84  63  48 N5        29.88S
GROTON         SUNNY     81  73  76 S3        29.84F
WILLIMANTIC    SUNNY     83  64  52 W5        29.86F

There is no chance for widespread thunderstorm activity today though I suppose an isolated cell could always find a way to pop up. The chances are minimal. Over the next 3 days beginning Thursday afternoon and continuing through Saturday there is a greater risk for thunderstorms developing. 
LATEST VIDEO ANALYSIS OF HEATWAVE AND THUNDERSTORM THREAT
Temperatures Rising 90s This Afternoon
[brid video="52128″ player="6390″ title="July Heatwave Possible thunderstorms Thursday & Friday"]Satellite loop below shows mainly clear skies across the northeast. Some clouds are in the midwest and this is the next disturbance that is coming our way for Thursday afternoon. Radars should remain quiet into Thursday morning.
Temperatures Rising
Radar Loops

LOWER HUMIDITY SUNDAY
Saturday offers the arrival of temporary relief as a cold front approaches and moves through. Once that front moves by, Sunday we will see lower humidity and highs back into the 80s. Next week there could be a return to hot temperatures beginning on Tuesday as an upper ridge begins to build in the east.
FiOS1 News Weather Forecast For Long Island
FiOS1 News Weather Forecast For New Jersey
FiOS1 News Weather Forecast For Hudson Valley
LATEST JOESTRADAMUS ON THE LONG RANGE
Weather App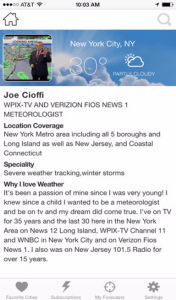 Don't be without Meteorologist Joe Cioffi's weather app. It is really a meteorologist app because you get my forecasts and my analysis and not some automated computer generated forecast based on the GFS model. This is why your app forecast changes every 6 hours. It is model driven with no human input at all. It gives you an icon, a temperature and no insight whatsoever.
It is a complete weather app to suit your forecast needs. All the weather information you need is right on your phone. Android or I-phone, use it to keep track of all the latest weather information and forecasts. This weather app is also free of advertising so you don't have to worry about security issues with your device. An accurate forecast and no worries that your device is being compromised.
Use it in conjunction with my website and my facebook and twitter and you have complete weather coverage of all the latest weather and the long range outlook. The website has been redone and upgraded. Its easy to use and everything is archived so you can see how well Joe does or doesn't do when it comes to forecasts and outlooks.
Just click on the google play button or the apple store button on the sidebar for my app which is on My Weather Concierge. Download the app for free. Subscribe to my forecasts on an ad free environment for just 99 cents a month.
Get my forecasts in the palm of your hand for less than the cost of a cup of Joe!
MENTION JOE CIOFFI AND GET A 5% DISCOUNT