Temperatures Moderate Raw Rainy Weekend Snow Well Inland
We managed our way back to the low to mid 30s for highs this afternoon as the core of the cold air begins to move overhead and winds continue to diminish. Skies are and will be mainly clear over the Northeast and Northern Mid Atlantic states tonight. The satellite and radar views are rather quiet tonight. It will be a cold night with a bit of radiational cooling taking temperatures down to the teens to mid 20s with a few single digits over cold spots that still have some snow cover.
SATELLITE

REGIONAL RADAR

On to Wednesday when we should see a small bounce higher in temperatures in the afternoon with a fair amount of sunshine. Highs will reach the mid to upper 30s in most places with not much wind. It should be a nice mid winter type of day.
Thursday sees another step higher in temperatures with some sunshine and we will repeat this Friday with sunshine giving way to arriving clouds. Highs in the low to mid 40s. This comes ahead of low pressure swinging out of Texas and heading northeast. One low heads to the Lower Great Lakes and dies out and a second low develops over Virginia or Western North Carolina and heads northeast from there.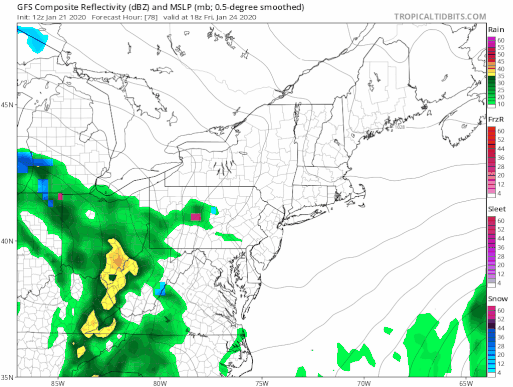 There just isn't much cold air around as the arctic remains cut off so you work with what you have which isn't much. A cold high to the north will bleed cold air southward into the Interior Northeast which means this will be an elevation driven snow from Pennsylvania to New England. There isn't much here to work with other than a little snow at the start perhaps in areas just inland early Saturday.
This  is how I am seeing it at this early stage. There isn't much here for snow lovers to hope for except for the chance that it changes over to snow before it ends for South Coastal New England back into Northern New Jersey Saturday night into Sunday morning. The odds here of this happening are rather long. If it is an issue (we are betting against it right now) we won't really know until late in the week. Beyond that the long range remains elusive for any kind of meaningful winter weather though it will not exactly be warm and springlike either. It will just be more of the same early next week. We start dry and chilly. Then another storm system threatens midweek with more rain likely.
MANY THANKS TO TROPICAL TIDBITS FOR THE USE OF MAPS
Please note that with regards to any severe weather,  tropical storms, or hurricanes, should a storm be threatening, please consult your local National Weather Service office or your local government officials about what action you should be taking to protect life and property.