Temperatures Bounce Winds Relax No Sustained Warmth In The Long Range

Temperatures Bounce Winds Relax No Sustained Warmth In The Long Range

Sustained warmth is not in the cards in the short and medium range. By sustained warmth I mean more than just a day or two. In the meantime Monday night's storm is pulling away. The wind which has was an issue overnight is now beginning to ease as high pressure moves off the coast. Clouds have retreated northward and we have a stable atmosphere. Sunshine this afternoon should allow temperatures to reflexively bounce to the upper 50s and lower 60s. Radars are nice and quiet and we don't expect issues from showers today or tonight. We should be clear most of tonight with lows in the mid 30s to lower 40s except closer to 45 in warmer urban locations.
SATELLITE

WEATHER RADAR

Thursday we have a cold front approaching but the system driving the front is so far to our north that showers will likely fall apart as they move east. We will go for a mix of sun and clouds for Thursday. When the front passes late in the day there might be an isolated brief shower in one or two spots. Highs will be into the 60s in most places.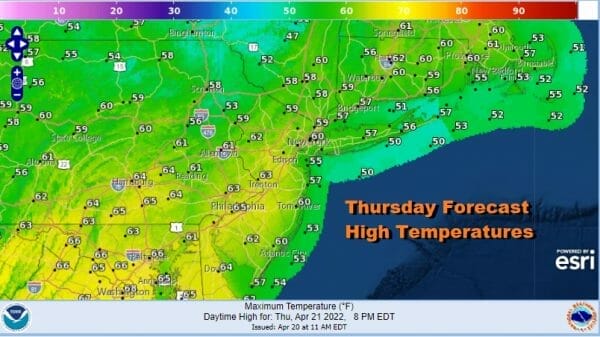 The air behind the front is not cold. As long as we have enough sunshine around and I think we will, Friday should turn out to be a nice day and the best day of the work week. The April sun working on a non cold air mass should allow temperatures to bounce higher into the upper 60s and lower 70s. The exception will be south and east facing shorelines where the sea breeze will come in and keep temperatures in the 50s.
The weekend will be okay but not picture perfect. We don't see any rain for Saturday and Sunday. We do have issues with the wind direction Saturday and Sunday and that will create some temperature issues depending on whether you have a wind off the ocean. There also will be some clouds but some sun will be in the mix both days. Saturday highs will be into the 60s away from the ocean. Sunday is a little trickier and could be a day where temperature ranges are wide depending on your location.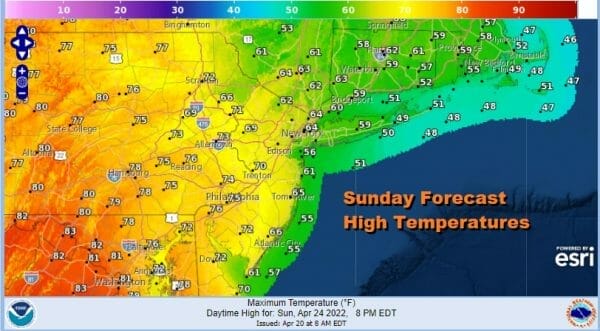 NYC north and east will be in the mid 50s to lower 60s. Central and South Jersey, Eastern Pennsylvania and nearby areas should reach the 70s. Note the 80s are in Maryland and Northeastern Virginia however we don't have a set up to bring that warmer air further north. The same will probably hold temperature wise for Monday. The next cold front comes Tuesday with some showers and that will be followed by another chilly air mass for the second half of next week.
Please note that with regards to any severe weather,  tropical storms, or hurricanes, should a storm be threatening, please consult your local National Weather Service office or your local government officials about what action you should be taking to protect life and property.