System Off Florida Coast Better Organized Could Become A Tropical Depression Saturday
Satellite and radars this afternoon show that the disturbed weather off the east coast of Florida has become better organized today. We have noticed a distinct increase in clouds and convection offshore and the satellite signature of the cloud mass is beginning to take on a tropical system in the formative stages. Conditions are favorable for develop as this system is in an area of light upper air winds and a very warm ocean.
SATELLITE

Looking at the local radar from Miami there is what appears to be some sort of low pressure center developing east of Miami. There are downpours and thunderstorms circulating in a counterclockwise fashion.  Next thing to look for is a concentration of convection developing near the center. So far we don't see this happening however if organization continues, and pressures are rather low in this area, a tropical depression could form here by late Saturday.
LOCAL RADAR MIAMI
Weather models have that broad low that off shore drifting around before turning northeastward off the Florida coast and tracking offshore off the Carolinas early next week. This makes sense considering the upper flow that will be over the Eastern US. There is going to be a weak upper low over us on Sunday that might linger into Monday this is going to create a southwest flow in the east. We also have an upper trough in the Plains with a short wave trough that runs out a head of it across the south.
This is not an upper air jet stream pattern that would be favorable for any system to come straight up the East Coast. It would be one where we probably see a strengthening system moving northeast and staying offshore and for now all of the hurricane tracking models are going in that direction.
We want to also point out that another system in the far Eastern Atlantic is moving westward and is showing some signs of organization as low pressure has developed. This system is well out to the east and no immediate threat to any land areas.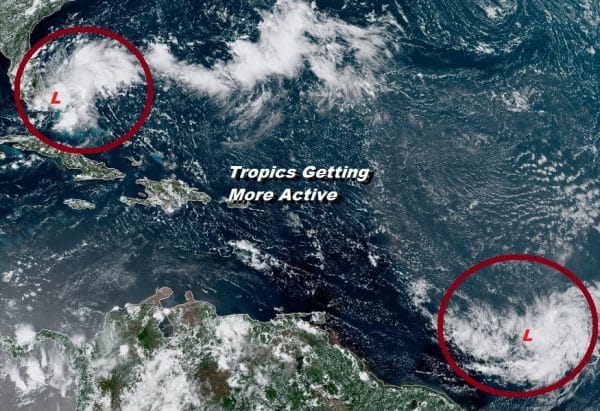 MANY THANKS TO

TROPICAL TIDBITS

FOR THE USE OF MAPS
Please note that with regards to any tropical storms or hurricanes, should a storm be threatening, please consult your local National Weather Service office or your local government officials about what action you should be taking to protect life and property.