Super Bowl Sunday Snow Rain Active Pattern Next Week
Super Bowl Sunday Snow Rain Active Pattern Next Week
We seem to be flipping a switch to a more active pattern over the next few weeks. All of this is coinciding with a colder pattern overall but as always with these things they are not perfectly aligned for snow lovers and location may be key. There is a lot of model uncertainty moving ahead as well regarding the strength of cold air which will ebb and flow as each weather system moves along. Once we get past the cold front for Thursday night which does not look like much, we focus our attention on Sunday. Remember that weather models incorrectly were overly warm and aggressive with the system for late Thursday into Friday morning. This will produce a few rain showers that might change to a bit of snow on the back side once the front passes but nothing of consequence is forecast from this except. We will address Thursday night & Friday morning separately on a later post. Much colder air follows for Friday and Saturday which will be mainly dry with below average temperatures especially Saturday morning which will be in the single digits and teens for lows and highs Saturday just in the upper 20s and lower 30s. This sets the table for Sunday.
GFS SUPER BOWL SUNDAY SNOW RAIN CLICK TO ANIMATE
We will start with the GFS model which shows low pressure moving across the Gulf States and heading right up the coast just offshore. Of the three major weather models the GFS is the warmest. Snow will begin during Sunday midday and then gradually change to rain along coastal areas. However inland it will be a bit of a different story as the snow will last longer before a change to a mix and then rain. Where this is all snow a 3-6″/4-8″ event seems reasonable. The GFS model has a well developed low with this which explains the flooding of warm air further north. The flatter Canadian model leads to a colder flatter idea with the low and as a result the mixing/all snow line on this model is further south.
CANADIAN MODEL SNOW RAIN CLICK TO ANIMATE
The European model basically splits the difference between the two models. Why the difference? Well it seems that the GFS is more overdeveloped than the other two models. The upper air on the GFS doesn't to me support its surface view though there should be a fair amount over overrunning moisture with this. All the models seem to agree on this point. We will have to see whether cold air is going to be more important as we get closer to the weekend. Beyond Sunday into Monday, another system follows for Wednesday which looks a bit weaker and another one follows that one next weekend with cold shots in between. All of this is due the strengthening vortex in Canada which in the long range is forecast to control the flow through the next several weeks.
SUPER BOWL SUNDAY SNOW RAIN JET STREAM FORECAST
Weather models over time will begin shifting the ridge off the West Coast further east. This will support a continuing active pattern going forward. Weather systems dropping southeast into the Eastern US will mean more opportunities for snow. All of this will hinge on the short term issues regarding the amount of cold air that will be available and more importantly where all the cold air centers itself as these weather systems move along. It is an interesting dynamic going forward as the second half of winter begins.
SHOP THE JOESTRADAMUS STORE
MANY THANKS TO TROPICAL TIDBITS FOR THE WONDERFUL USE OF THE MAPS
GET JOE A CIGAR IF YOU LIKE!
FiOS1 News Weather Forecast For Long Island
FiOS1 News Weather Forecast For New Jersey
FiOS1 News Weather Forecast For Hudson Valley
NATIONAL WEATHER SERVICE SNOW FORECASTS
LATEST JOESTRADAMUS ON THE LONG RANGE
Weather App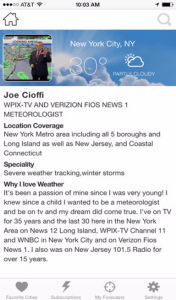 Don't be without Meteorologist Joe Cioffi's weather app. It is really a meteorologist app because you get my forecasts and my analysis and not some automated computer generated forecast based on the GFS model. This is why your app forecast changes every 6 hours. It is model driven with no human input at all. It gives you an icon, a temperature and no insight whatsoever.
It is a complete weather app to suit your forecast needs. All the weather information you need is right on your phone. Android or I-phone, use it to keep track of all the latest weather information and forecasts. This weather app is also free of advertising so you don't have to worry about security issues with your device. An accurate forecast and no worries that your device is being compromised.
Use it in conjunction with my website and my facebook and twitter and you have complete weather coverage of all the latest weather and the long range outlook. The website has been redone and upgraded. Its easy to use and everything is archived so you can see how well Joe does or doesn't do when it comes to forecasts and outlooks.
Just click on the google play button or the apple store button on the sidebar for my app which is on My Weather Concierge. Download the app for free. Subscribe to my forecasts on an ad free environment for just 99 cents a month.
Get my forecasts in the palm of your hand for less than the cost of a cup of Joe!