Sunshine Warmer Temperatures Next Few Days Hot Humid Tuesday

Sunshine Warmer Temperatures Next Few Days Hot Humid Tuesday

Yesterday's weather with the upper trough is long gone and now we can move ahead to a nice second half of the weekend with warming temepratures and no rain. High pressure will be moving offshore. Winds are going to be from the west. That should allow temperatures to warm up nicely to the upper 70s and lower 80s. Skies are clear on the satellite and the radar show no rain up and down the East Coast so we should be in very good shape going forward. Skies will be clear tonight. Most lows tonight will be in the upper 50s and lower 60s.
SATELLITE

WEATHER RADAR

Monday starts the warm up and we will have plenty of sunshine with a west wind. This time of year that is a recipe for very warm to hot weather. Humidity levels should be reasonable Monday but they will start to clmb on Tuesday. No thunderstorm risk is in the cards either. Highs Monday will be in the middle 80s to near 90 degrees.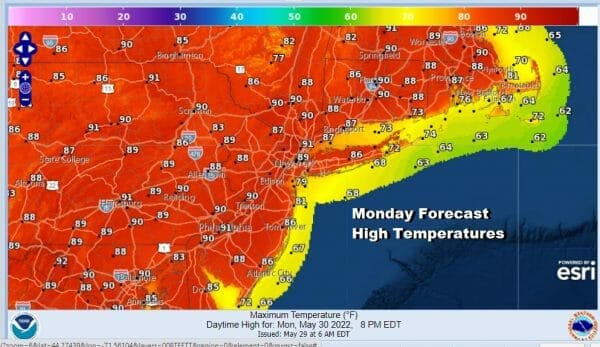 Tuesday will be the hottest day of the week as highs will reach the low and middle 90s. This will be the one and only very hot day this week as we do have a back door cold front that will moving moving in from the northeast. That will turn the wind around from northwest to east and then southeast. Tuesday night into Wednesday.
Wednesday should be a nice day but that wind shift will make a huge difference. This will be one of those days where if you are north and east of NYC you will likely be in the 70s with 60s to along the shore. Meanwhile if you are south and southwest of Philadelphia you will never really get into the cooler air and ighs will be in the upper 80s to near 90 degrees.
There is a cold front that will arrive late Wednesday with the chance for showers and thunderstorms when it goes by. This front was looking to come through Thursday but it seems that the front wants to get here a day faster. The flow from Canada is strengthening later this week and that will put and end to any hot weather for a while.
Thursday we should be no worse than partly sunny with highs in the low to mid 80s. Friday will be cooler with sunshine with highs in the 70s. Right now next weekend appears to be fine with no worse than partly sunny skies and no rain in the forecast.
Please note that with regards to any severe weather,  tropical storms, or hurricanes, should a storm be threatening, please consult your local National Weather Service office or your local government officials about what action you should be taking to protect life and property.