Sunshine Is Back Warmer Than Normal Through the Weekend No Rain Forecast

Today begins a warm mainly sunny stretch of weather that will last into Sunday at least. Temperatures will be above average by 5 to 10 degrees through Friday and 10 to 15 degrees above average over the weekend. We have a high building down from Eastern Canada but it is not a cold high at all. The satellite loop shows mainly clear skies across the Northeast and Mid Atlantic states and that puts us in sunshine all day. Afternoon highs will reach 65 to 70 degrees everywhere. The radars are nice and quiet and they should remain so into Sunday at least. Tonight will be nice and clear with lows mostly in the 40s inland and upper 40s and lower 50s along the coast.
SATELLITE

WEATHER RADAR

Not much changes over the next couple of days as the high moves southward and eventually finds its way off the New Jersey coast at the end of the week and for the weekend. Thursday we should see sunshine with highs will be a little cooler than today but still above average in the mid to upper 60s. Another nice night follows Thursday night with lows in the 40s inland and lower 50s  along the coast. Friday will be another nice day with sunshine and highs of 65 to near 70.
On to the weekend where the high to our north now will be to our east and that will start to turn the winds from northeast to more southeast and south and eventually to the southwest. We may start to see some low clouds and patchy fog developing during the night (Friday night & Saturday night) but that will burn off to sunshine. Highs Saturday will be a bit higher as we head into the upper 60s and lower 70s.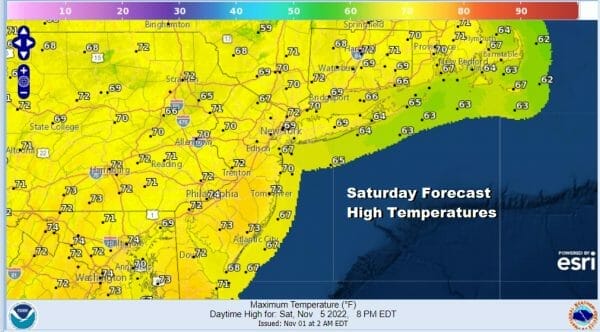 Sunday we will see the wind go more southwest and that should set us up for warm day of sunshine and highs will at least reach the low and middle 70s and we could even see a few places go higher if we get enough sunshine. There is a cold front that will be heading east through Western NY and Western Pennsylvania with a few showers but these showers will fall apart long before they reach the coast.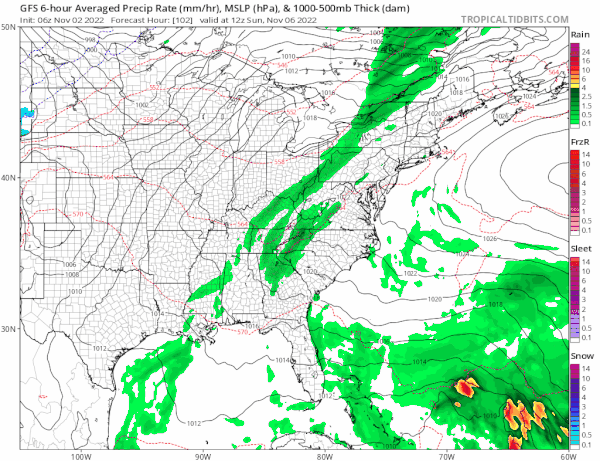 Next week we will begin to see a slowly grinding pattern change. We should be dry into midweek however a large new high builds into Eastern Canada and down the east coast. Off the Florida coast and the Bahamas, lower than normal pressures will cause a storm system to develop east and northeast of the Bahamas and meander there for a few days. This system could possibly develop into a tropical or subtropical storm but it is too early to say how this plays out. Another front approaches later in the week and some models are suggesting that the moisture from the low will possibly move up the coast but that too is uncertain. It does seem that we won't see a drop of rain for the next 7 days before we have to deal with any system from the south. A colder pattern is forecast to develop and those wheels will start turning in the atmosphere beginning around November 10th. Enjoy this warm stretch while it lasts.
Please note that with regards to any severe weather,  tropical storms, or hurricanes, should a storm be threatening, please consult your local National Weather Service office or your local government officials about what action you should be taking to protect life and property.