Sunshine Begins New Week Showers Thunderstorms Wednesday Night Thursday
Last night's round of showers and thunderstorms that swept offshore continues to move to the east. No stalling cold fronts for us this Monday and Tuesday as everything is moving right along. A strong trough and jet stream are swinging through the Northeast today and Tuesday which will mean cool weather and sunshine. No weather issues are forecast today other than a few fair weather clouds. The push of cool air reaches into the Middle Atlantic States and beyond.
SATELLITE

REGIONAL RADAR

High pressure drops southeast from the Great Lakes to the Middle Atlantic coast will be in control. Temperatures today will be held in check with highs in the 60s to near 70 at best. Tonight will be nice and cool with clear skies. Lows will be in the 40s in most inland areas, low 50s in the warmer urban locations and along the coast. Tuesday looks like a beautiful day with sunshine and highs in the upper 60s and lower 70s. Wednesday brings a west southwest wind and another cold front so look for some sunshine & warmer temperatures. Highs will reach the mid 70s to lower 80s.
Showers and thunderstorms will come back on the scene Wednesday night into Thursday as that cold front on the map above moves on through. We are going to see the possibility of some severe thunderstorms across the Middle Atlantic States with this front and that could extend northward Wednesday night with some heavy rains until the front passes.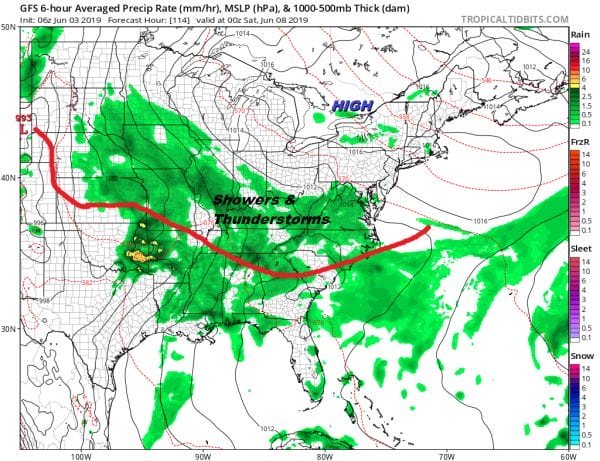 Then it is a matter of how far south does the front get. Weather models seem to suggest that the frontal boundary will sink southward and stall out across the Southern Middle Atlantic and Southeast US which will bring showers and thunderstorms to those areas but dry air to the north will be relatively close by. We could get lucky here and see nothing worse than a mix of sun and clouds beginning Friday and lasting into the weekend. Models seem to be leaning in this direction as the jet stream pulls out of the east and a ridge of high pressure builds in.
MANY THANKS TO

TROPICAL TIDBITS

FOR THE USE OF MAPS
Please note that with regards to any tropical storms or hurricanes, should a storm be threatening, please consult your local National Weather Service office or your local government officials about what action you should be taking to protect life and property.