Sunny Sunday Week Ahead Brings Shower Thunderstorm Chances Midweek

Sunny Sunday Week Ahead Brings Shower Thunderstorm Chances Midweek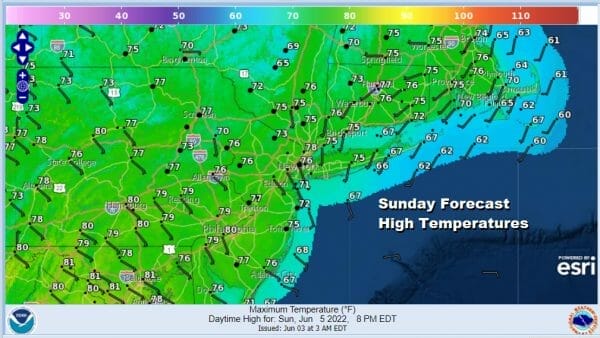 Our nice weather weekend continues and newly christened Tropical Storm Alex is helping the cause. Alext strengthened to a tropical storm overnight off the Southeast US coast and it is moving northeast. Bermuda has tropical storm warnings as Alex will pass near Bermuda Monday with heavy rains and gust winds. However its position in the scheme of things in the Atmosphere is keeping weather systems from moving along for the next day or two and this leaves us in a nice sweet spot. Other than some passing clouds it will be a nice sunny dry day with highs in the upper 70s and lower 80s. Local sea breezes will keep things a little cooler along the immediate coast.
SATELLITE

WEATHER RADAR

The radars are nice and quiet which is going to be the case until later Tuesday so until then we have nice cool nights to enjoy with clear skies tonight. Most lows will be in the 50s. Monday will be another day with sunshine and seasonal highs in the upper 70s and lower 80s.
Tuesday brings the firs to two set ups for showers and thunderstorms. The second comes at the end of the week. First things first though Tuesday we will see some early sun and it will be warm and a little more humid. Showers and some scattered thunderstorms will move through later in the afternoon and evening as a cold front moves through. Once again this will be a case where the front will slow down and stall overhead and we have to wait for another upper trough to swing around for Wednesday.
As that second trough lifts up into the Northeast we will see a low moving up along the frontal boundary and that will set off some showers and thunderstorms later Wednesday into Wednesday night. Most of it should be gone by daybreak Thursday. Highs both Tuesday and Wednesday will be in the upper 70s and lower 80s. Thursday and Friday will be fine and seasonal but we have issues for next weekend. Another system will be coming around in similar fashion to Tuesday except this one is going to take a more southern route.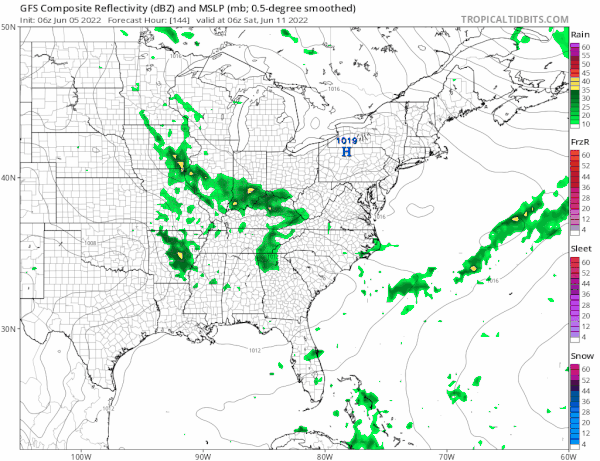 This does not bode well for next weekend though we may be able to squeeze out a dry Saturday and then it will be a rainy Saturday night and Sunday. It may turn a little on the raw side Sunday with a low tracking to the south and east and a northeast wind taking control so I would not be surprised if we wind up seeing highs in the 70s on Saturday but just in the upper 50s to lower 60s on Sunday. It is early in the game here so we will come back to this during the week. In the meantime enjoy this lovely Sunday.
Please note that with regards to any severe weather,  tropical storms, or hurricanes, should a storm be threatening, please consult your local National Weather Service office or your local government officials about what action you should be taking to protect life and property.