NICE SUNNY CRISP AUTUMN AFTERNOON
RAIN MONDAY & AGAIN LATER TUESDAY
COLDER MID AND LATE WEEK
After the rains of Friday night and the winds of Saturday it is nice that we have settled down into a nice sunny Sunday after noon. Not much is showing up on the satellite loops other than some high clouds to the north and some Atlantic moisture building off the Carolinas. There are no other issues to speak of today into tonight with the winds having settled down and temperatures that are topping out in the low to mid 50s. It is amazing how quickly the leaves have changed in the last week as we went from slight color to full color to past peak in a manner of days. Now the leaves are on the ground and well ahead of last years pace.
EASTERN SATELLITE

REGIONAL RADAR

There are no issues on the regional or local radars for this evening or for much of tonight. However an onshore flow sets up tonight with clouds increasing and some areas will see rain developing in the early morning hours toward daybreak. Monday will be a cloudy day with some rain at times and an ocean wind. This will keep things raw with temperatures in the 50s.
Next comes a cold front on Tuesday Election day ahead of low pressure heading from the Plains into the Great Lakes. This will bring warmer conditions Tuesday with highs into the 60s and a good chance for showers later in the day and Tuesday night.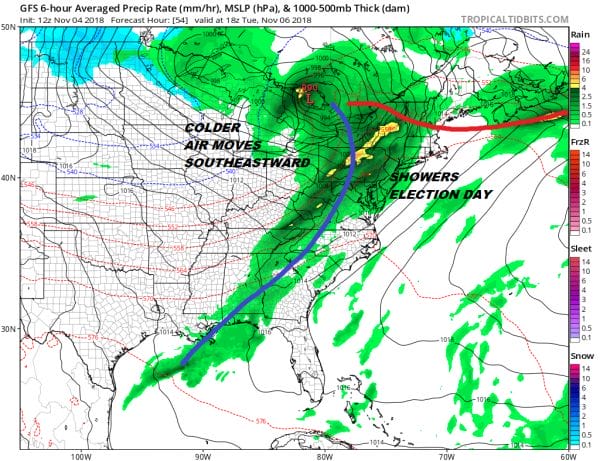 Weather systems will be moving along so there will be another shot of colder air coming in for Wednesday and Thursday. Even colder air is poised to come at the end of the week and the question is whether it comes through uneventful or will low pressure develop on a cold front offshore and create some rain issues. We will address this in a long range post later this evening.
SUBSCRIBE TO PATREON FOR A WEATHER EXPERIENCE FREE OF ADS, EXCLUSIVE VIDEOS FOR MEMBERS ONLY AND MUCH MORE…STARTS AT $2 A MONTH..MESSAGE ME AT ANY TIME

MANY THANKS TO

TROPICAL TIDBITS

FOR THE USE OF MAPS
Please note that with regards to any tropical storms or hurricanes, should a storm be threatening, please consult your local National Weather Service office or your local government officials about what action you should be taking to protect life and property.
LATEST JOESTRADAMUS ON THE LONG RANGE