Sunday Weather Sunshine Returns Rain Late Tuesday
SHOP THE JOESTRADAMUS STORE
Sunday Weather Sunshine Returns Rain Late Tuesday
We are seeing clouds on the satellite loop moving through the area this evening but it is not a complete overcast as the moon is visible through the clouds in some places. There are no showers with this disturbance as it is rather weak. There is enough cloud cover to hold temperatures up but some clearing of skies will occur in some areas away from the coast and this could let temperatures drop in those places since there is very little wind. There is one more batch of clouds to the west that will move through overnight and once that moves offshore during the early morning hours we should see Sunday dawn with some sunshine. Overnight temperatures will mostly be in the 30s to near 40 though in some areas where skies might clear, we could see some 20s in those places.
SATELLITE LOOP

REGIONAL RADAR

Sunday should be no worse than partly sunny if not mostly sunny especially away from the coast. Temperatures should reach the 50s. Then we will extend the nice weather into Monday with sunshine and highs again reaching into the 50s.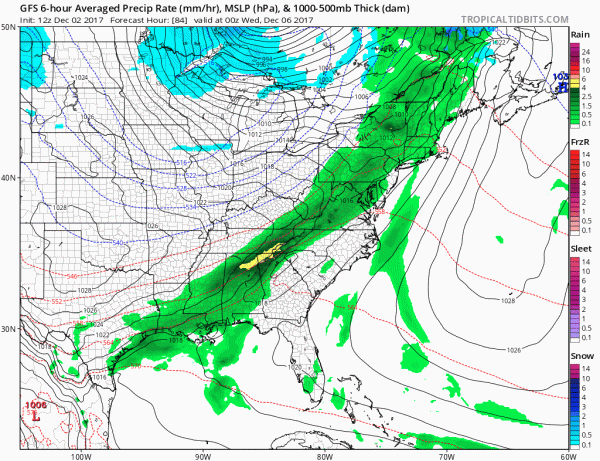 Tuesday we see an important cold front approaching so look for lots of clouds and temperatures in the 50s. A few scattered showers could pop up but they will become a bit more numerous Tuesday night into Wednesday morning before ending. Inland north and northwest don't be surprised if some sleet or wet snow mixes in before the precipitation ends. Then leftover clouds will linger on Wednesday with temperatures settling into the 40s.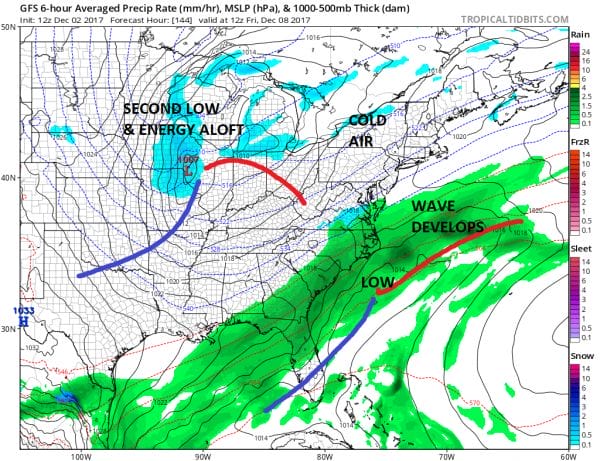 The front will stall to the south and east and weather models show a wave developing on the front and moving northeastward. Temperatures will be colder from Thursday onward as a colder pattern takes shape. Thursday may start with some sun but there will be high clouds around later in the day. The wave will move northeastward up the coast and offshore on Friday but close enough to keep us in clouds and a cold rain with highs just in the upper 30s and lower 40s. The air aloft is cold so we will be watching model trends and whether the wave is further west. This could put some wet snow into the mix here but we will wait for more information over the next few days to see if this becomes a reality.
For more on the weather complications for Friday and next weekend see the latest post by JOESTRADAMUS on the long range.

GET JOE A CIGAR IF YOU LIKE 
FiOS1 News Weather Forecast For Long Island
FiOS1 News Weather Forecast For New Jersey
FiOS1 News Weather Forecast For Hudson Valley
LATEST JOESTRADAMUS ON THE LONG RANGE