Sunday Sunshine Underway No Major Issues For Week Ahead
We seemed to have hit a sweet spot weather wise this weekend and today will be another day of sunshine. Cool high pressure has built from the Great Lakes to Southeastern Canada to New England. This has solidified us in an environment of low dew points and nice clear skies for the most part. We are looking at a sunny day with a light northeast breeze and temperatures that will top out in the low to mid 70s. The radar is void of any precipitation and there are no signs of rain over the next couple of days.
SATELLITE

REGIONAL RADAR

There is an upper low dropping southward from Ohio to West Virginia and it will eventually make its way into the Southeast US. Those are the clouds that cover Southern Ohio east into South Central Pennsylvania but they should sink southward over time. Skies will be partly to mostly clear tonight with most lows again in the cool 50s. Monday looks nice and sunny with the exception of areas to the south from Delaware to the Maryland/Pa border where the edge of clouds will be coming into the mix. However no rain is forecast. An  east will will keep temperatures mostly in the low to mid 70s.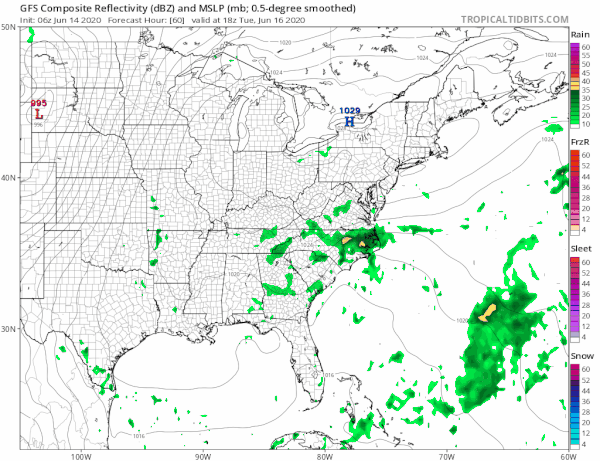 The high to the north weakens somewhat but there is nothing to bring the upper low to the south northward. The only issue I see for Tuesday and Wednesday is whether some clouds come into mix with sunshine. Otherwise there really isn't much to worry about. Rain will likely stay in Virginia and North Carolina. Perhaps the northern edge gets as far north as Maryland and Delaware at some point mid week for a short time. Tuesday should be no worse than partly with highs in the 70s. Wednesday also looks partly sunny with highs in the 70s to near 80. Then we can take temperatures up a notch or two for Thursday and Friday with highs in the 80s. Throw in the chance for an isolated pop up shower or thunderstorm inland and that pretty much caps off the last full week of the spring season.
An early look at Father's Day weekend shows probably warm and more humid conditions with some sunshine both for next Saturday and Sunday. Highs will be in the 80s. There is the chance for a pop up shower or thundertorm. A cold front will be approaching and probably moving through next Sunday night but there doesn't appear to be much support with it at the moment. Overall. a rather quiet and nice finish to this weekend, a not so busy week ahead, and a warm humid Father's Day for dad to do whatever it is he does to make him happy.
MANY THANKS TO TROPICAL TIDBITS FOR THE USE OF MAPS
Please note that with regards to any severe weather,  tropical storms, or hurricanes, should a storm be threatening, please consult your local National Weather Service office or your local government officials about what action you should be taking to protect life and property.