Sunday Monday Warmup Arctic Front Snow Chance Very Cold Air Arrives
Warmer air is arriving today and we are seeing clouds that are moving through this morning in response to this. Temperatures bottomed in the upper 20s to mid 30s overnight and we should break out into some sunshine later today. This should take temperatures up into the upper 40s and lower 50s. We would probably go higher if we had sun from start to finish. There is a line of rain showers back in Eastern Pennsylvania ahead of the warmer air. These showers should mostly fall apart as they move eastward.
SATELLITE

REGIONAL RADAR

We have another arctic front on the way for Tuesday which buys us another warm day Monday. Tonight's temperatures will likely hold in the 30s to lower 40s and the we should see highs Monday afternoon in the mid to upper 50s. Sunshine should start the day and clouds should finish it off. No rain is forecast for Monday.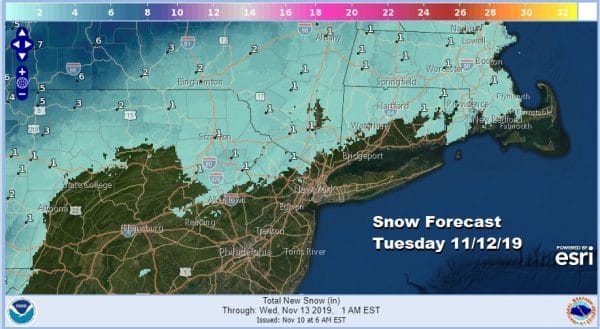 Tuesday brings the arctic front through here in the early morning hours before daybreak. There will be some rain with that front and we will see it turn to snow. Right now the best chances for accumulations of an inch or so like north and west of the coast however
I think there is the chance we could see a coating of snow in areas further south down into Central New Jersey and into Southeast Pennsylvania as well as Coastal Connecticut, NYC & Long Island. This system will bring heavier snows across upstate NY & New England.
At best this is a cheap thrill for snow lovers and perhaps a bit of a salting event for snow removal folks as cold air comes in quickly. Then it is all about the cold with gusty winds Tuesday afternoon and night. Temperatures Wednesday morning will be very cold as we bottom in the mid teens to lower 20s.
Wednesday will be a day of ineffective sunshine with highs just in the upper 20s to middle 30s. This shot of cold air will move into New England with a bit of warm front approaching Thursday. There could be clouds and maybe a snow shower or two with that front scattered around. Temperatures should try to make it back into the 40s. Another cold front will be moving through Friday night into Saturday morning setting us up for a cold weekend but this cold will likely be confined mostly to the Northeast into the Northern Mid Atlantic states.
MANY THANKS TO TROPICAL TIDBITS FOR THE USE OF MAPS
Please note that with regards to any severe weather,  tropical storms, or hurricanes, should a storm be threatening, please consult your local National Weather Service office or your local government officials about what action you should be taking to protect life and property.