Sunday Monday Warmer Temperatures Sunshine Showers Tuesday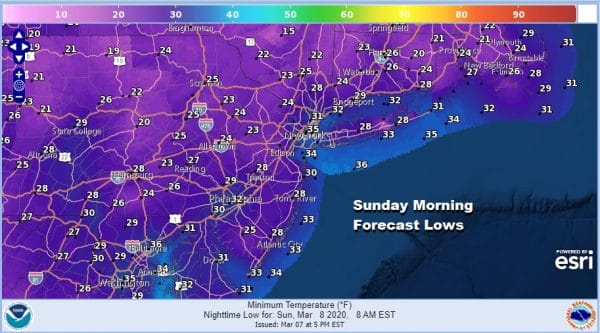 After a day of sunshine, gusty winds and cool highs in the 40s, we are moving ahead to a night of clear skies and cold temperatures. Most lows will be in the 20s to near 30. The warmer urban centers will be closer to or just above freezing. Satellite pictures show the ocean coastal storm now pretty much off the screen and skies are mostly clear from New England to Northern Florida west to the Great Lakes and Ohio Valley. Radars are all nice and quiet and will remain so through Monday.
SATELLITE

REGIONAL RADAR

Sunday begins the warm up with sunshine taking temperatures well up into the 50s everywhere. Even along coastal areas there will be enough of a west wind to keep the sea breeze at bay until later in the afternoon so 50s are doable even at the shore. High pressure is moving off the South Atlantic coast and the west wind brings warmer temperatures on Monday.
How warmer it gets on Sunday depends on how much sunshine. If there is enough temperatures will probably surpass the highs forecast by about 3 to 5 to degrees. With a little extra upside, highs could reach the upper 60s to lower 70s. The next 2 days are definitely springlike.
Tuesday brings clouds and showers ahead of a cold front and there is another low that follows from the Plains. That will bring some rain Wednesday night into Thursday. A third front and low will approach on Friday with the chance for showers. While the week is active, none of these systems are anything extraordinary so we will just move right along in this fast west to east weather pattern.
MANY THANKS TO TROPICAL TIDBITS FOR THE USE OF MAPS
Please note that with regards to any severe weather,  tropical storms, or hurricanes, should a storm be threatening, please consult your local National Weather Service office or your local government officials about what action you should be taking to protect life and property.