Summer Weather Continues Severe Weather Risk Grows Late Saturday
After what was for most a spectacular 4th of July day of sunshine and no thunderstorms, we are seeing some cloud issues on the satellite as a southeast flow has developed. Those clouds will break up to some extent as we go through the day and we will see some sunshine. However with the wind carrying an easterly component to it, temperatures will be a shade lower today with near or low 80s near the immediate coast with mid to upper 80s inland. Some spot showers or thunderstorms will pop up inland late today into tonight but no widespread thunderstorm activity is forecast. Enjoy your Friday as the 4/5/7 or 9 day weekend continues!
SATELLITE

REGIONAL RADAR

Other than some isolated to scattered thunderstorms this evening (best chances from the New Jersey Pennsylvania border westward) it will be a warm humid night with some patchy fog along the coast. Lows will be mostly in the mid 60s to lower 70s.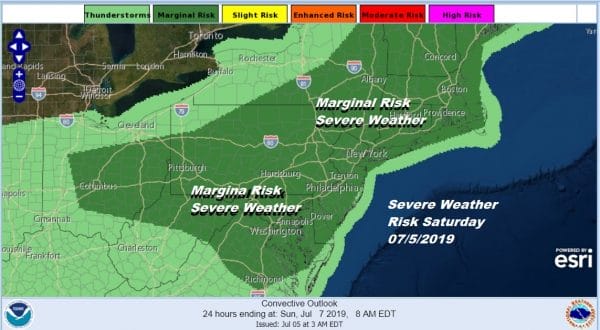 We have been stressing that Saturday would be the one day where we might see widespread thunderstorm activity and this continues to be the case. This will come later in the afternoon and evening and the Storm Prediction Center has a large portion of the Middle Atlantic & the Northeast (including us) at a marginal risk for severe weather. Saturday will be hot in humid with highs in the upper 80s and lower 90s. It will be a steamy day with high humidity before the thunderstorms come along. This is being caused by a cold front that will be moving through Saturday and dropping southward along the coast.
The front is going to get only so far south into the Middle Atlantic States before it stalls out along or just inland of the Carolinas. This is is going to create a bit of a hang up regarding the dry air to the north and how far south it gets as least as far as Sunday is concerned. Also there may be leftover clouds around especially from NYC southward. There might even be a few showers over Southern Pennsylvania and Southern New Jersey Sunday afternoon. Highs will be in the low to mid 80s. The lower humidity should make in for Monday and Tuesday with sunshine and highs mainly between 80 & 85.
This weather pattern with the jet stream from Canada active and south of the US border means another front approaches for Wednesday into Thursday. Wednesday we will likely see sunshine taking highs in the 80s to near 90 before we get a shower or thunderstorm with a cold front. Then another shot of dry air follows for the end of the week. Enjoy the rest of your holiday weekend.
MANY THANKS TO

TROPICAL TIDBITS

FOR THE USE OF MAPS
Please note that with regards to any tropical storms or hurricanes, should a storm be threatening, please consult your local National Weather Service office or your local government officials about what action you should be taking to protect life and property.