Summer Pattern Coming Late Next Week
Summer Pattern Coming Late Next Week
The persistent trough in the Eastern US has a few more days to run its course before we see a change in the upper air pattern. We see a summer pattern coming late next week as the jet stream profile changes across the US. First though the last in a series of troughs that have been dropping into the Northeast and off the New England coast will play through this weekend so that by Tuesday morning of next week it will be just offshore.
GFS JET STREAM FORECAST TUESDAY JUNE 26, 2018
What is different this time around is that the entire trough will lift out to the northeast and that will allow a strong ridge to build in the East. While this is going on a broad trough takes over in the Western US which will support the ridge in the Eastern US.
GFS JET STREAM FORECAST SATURDAY JUNE 30, 2018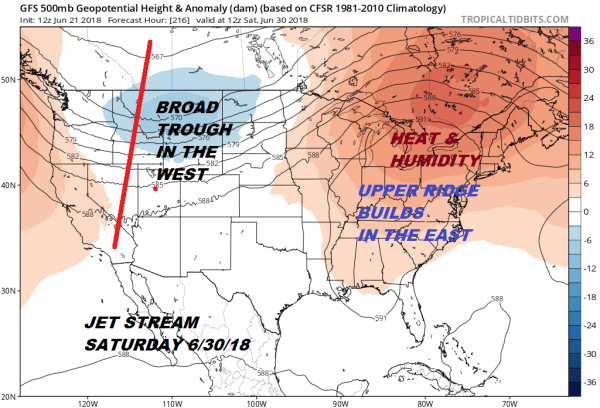 Up until now every time the ridge in the East appeared it would be gone in a day or two with the next trough coming into the East. However this time around it looks to last for more than a day or two and it could push us into the first week of July.
GFS JET STREAM TUESDAY JULY 3, 2018
The upper high over Greenland has an upper air storm locked up to its south. This keeps the Canadian jet stream flat and zonal across Southern Canada. The warm Atlantic ridge stretches east west across the Atlantic westward into the Southern Plains. This would mean a prolonged period of very warm to hot weather into the first week of July. This set up may not mean extreme heat but it will probably produce a fair share of 90 degree plus days. It also would be more supportive for some scattered thunderstorms developing in the afternoon in the East which might temper the hot weather somewhat. Summer looks like it is finally getting here.
SHOP THE JOESTRADAMUS STORE
MANY THANKS TO TROPICAL TIDBITS FOR THE WONDERFUL USE OF THE MAPS
GET JOE A CIGAR IF YOU LIKE!
LATEST JOESTRADAMUS ON THE LONG RANGE