Summer Day Before Front Passes More of the Same This Weekend
Marginal Risk Severe Weather Late Today into Tonight
This time of year it is not unusual to get days like this where summer pops in for a day or two. We are going to see a good deal of sunshine today with a west to southwest wind. That will take temperatures into the mid and upper 80s. Some hot spots inland could approach 90 in Central and South Jersey and Southern Pennsylvania. North and east of NYC  Hudson Valley & Connecticut highs will be in the low to mid 80s.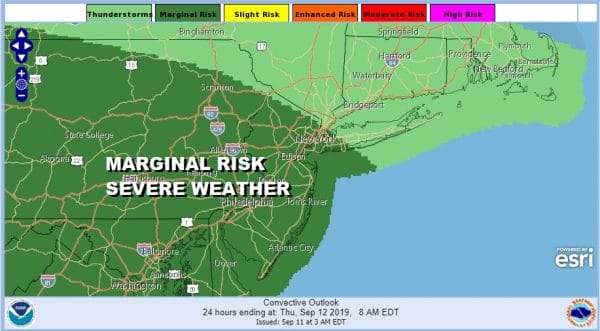 There is a cold front that will be approaching from the northwest but I think it stays out of the way for the dayside.  If there is a chance for a shower or thunderstorm, look for it to happen after sunset and possibly after midnight as the front is moving very slowly. The Storm Prediction Center has us at a marginal risk for severe weather late today and tonight.
SATELLITE

REGIONAL RADAR

The middle Hudson Valley into Western New England are seeing showers and a few thunderstorms as evident on the regional and even on the local radar from Upton picking up on those cells. The area is moving east southeastward and should stay well to the north of route 84 in NY state though a few cells might make it into northwest Connecticut.
LOCAL RADAR NEW YORK CITY
LOCAL RADAR PHILADELPHIA

Tonight brings a cold front closer to us and we may see a few scattered showers or a thunderstorm overnight. The front is going to take its time sinking southward on Thursday which will put us in clouds and humidity. Some scattered showers or a thunderstorm could occur Thursday until the front finally passes off the coast. Highs will be in the upper 70s and lower 80s with higher temperatures further south.
Friday it is about the onshore flow as high pressure builds down from New England. In cases like this dry air often makes it to about NYC and Long Island so from there north into the Hudson Valley and east into Connecticut we see no worse than partly sunny skies. South of NYC in New Jersey, Eastern Pennsylvania and points south it will be more clouds than sun or in some places very little sun at all. Highs will be in the much cooler 70s.
We see no changes on the weekend. It will be back the other way as winds back around to the southwest and another weak front approaches. It will be warm and humid over the weekend. Watch for a shower or thunderstorm Saturday evening or overnight. Much of the time this weekend it will be dry. Highs Saturday will be in the upper 70s to mid 80s and Sunday's highs will be in the 80s with partly sunny skies.
The tropics could be heating up this weekend as we watch a low in the Northeast Gulf of Mexico and a system approaching the Leeward Islands. Joestradamus has more on this in his latest post.
MANY THANKS TO

TROPICAL TIDBITS

FOR THE USE OF MAPS
Please note that with regards to any tropical storms or hurricanes, should a storm be threatening, please consult your local National Weather Service office or your local government officials about what action you should be taking to protect life and property.