SUMMER COMES WEDNESDAY
HIGHS IN THE 80S EVERYWHERE
We are going to skip Tuesday because summer comes Wednesday to our area. We have a perfect set up for very warm temperatures even at the shore. The key to a warm day along the coast this time of year is a sustained west wind which keeps the sea breeze from developing until late in the day. Such is the case on Wednesday.
SUMMER COMES WEDNESDAY
GFS SURFACE MAP WEDNESDAY AFTERNOON
Low pressure is to the north of us with a sustained west northwest wind and a decent pressure gradient setting up between the low to the north and the high to the south. This will keep the sea breeze along the beaches at best until perhaps very late in the afternoon. Even then the sea breeze will probably only make it inland by a few miles as the forecast high temperature map shows.
SUMMER COMES WEDNESDAY
FORECAST HIGH TEMPERATURES WEDNESDAY
Even most of Long Island makes it into the 80s. Coastal New Jersey could make it into the middle 80s. It is quite possible that these numbers are a few degrees too low! The air also dry so humidity levels will be very low. It would make for a great beach day if you choose to take a day off from work though I am not endorsing this idea.
SUMMER COMES WEDNESDAY
GFS SURFACE MAP THURSDAY
Thursday shapes up differently. The frontal boundary is to the north but we lose the west northwest wind and instead with the high offshore, winds go more southwest. This means inland areas will get very warm again however for Long Island and coastal Southern New England temperatures will be a little lower for the highs thanks to the wind coming in somewhat off the 50-55 degree ocean.
SUMMER COMES WEDNESDAY FORECAST
HIGH TEMPERATURES THURSDAY
Notice Long Island and Coastal Connecticut temperatures reach the upper 70s but they are likely to drop off in mid to late afternoon because of that difference in the wind direction.
GFS SURFACE MAP FRIDAY
Friday brings more changes. The prolonged southwest flow brings in humidity and this produces some scattered thunderstorms to the equation though most of them are indicated to be inland. The other issue is that the GFS model spins up a coastal low off the southeast coast. It is doing this faster than in previous runs. This to me suggests that while the low might have some tropical characteristics, it develops too fast and too soon to become a sustained tropical system in my view. If this were late June I might suggest otherwise but for now you are going to have to prove it to me that this is going to be nothing more than a non tropical or semi tropical low. I suppose it is not impossible that this could become a tropical depression before moving inland. The odds to me seem rather long at this stage.
GFS SURFACE MAP SATURDAY
Moving along into Saturday it seems that we will still be under warm and rather humid conditions here. The frontal boundary will be to the north. We will probably have clouds and sun for Saturday with highs in the 80s. The low off the southeast coast is now inland in South Carolina. The question for the rest of the weekend is that frontal boundary to the north and whether it drops southward. This could certainly complicate things for the latter portion of the hoilday weekend.
GFS MODEL SURFACE MAP SUNDAY
By Sunday the new GFS model drops the frontal boundary to the south of us by Sunday afternoon which turns the winds to onshore southeast. If this is correct it means probably more clouds and there is the chance for some precipitation along with cooler temperatures. The speed of the frontal boundary is faster and further south than in previous runs and I would like to see other models show some sort of confirmation of this idea.
GFS SURFACE MAP MONDAY MEMORIAL DAY
The new GFS model is doing something radically different for Monday Memorial Day. It really builds that high to the north strongly and sets up a strong cool onshore flow. This would send temperatures down into the 50s and even some 40s Monday morning if this is correct. The question then becomes how much low cloud cover develops and if that rain to the south comes northward at some point during the day. Again I want to see several runs before being sold on this idea. Earlier runs did suggest an onshore flow developing for Monday but not to this extreme. It may be overdone but one has to consider the possibility that this could be a possible outcome. This make may make things rather dicey for Monday Memorial Day. In the meantime summer comes Wednesday so if you like it very warm and dry this is your day.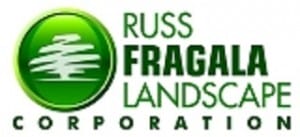 MENTION JOE CIOFFI AND GET A 5% DISCOUNT
FiOS1 News Weather Forecast For Long Island
FiOS1 News Weather Forecast For New Jersey
FiOS1 News Weather Forecast For Hudson Valley
NATIONAL WEATHER SERVICE SNOW FORECASTS
LATEST JOESTRADAMUS ON THE LONG RANGE

NOMINATED FOR AN APPY AWARD FOR BEST WEATHER APP!!
Weather App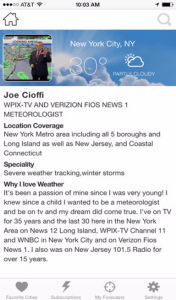 Don't be without Meteorologist Joe Cioffi's weather app. It is really a meteorologist app because you get my forecasts and my analysis and not some automated computer generated forecast based on the GFS model. This is why your app forecast changes every 6 hours. It is model driven with no human input at all. It gives you an icon, a temperature and no insight whatsoever.
It is a complete weather app to suit your forecast needs. All the weather information you need is right on your phone. Android or I-phone, use it to keep track of all the latest weather information and forecasts. This weather app is also free of advertising so you don't have to worry about security issues with your device. An accurate forecast and no worries that your device is being compromised.
Use it in conjunction with my website and my facebook and twitter and you have complete weather coverage of all the latest weather and the long range outlook. The website has been redone and upgraded. Its easy to use and everything is archived so you can see how well Joe does or doesn't do when it comes to forecasts and outlooks.
Just click on the google play button or the apple store button on the sidebar for my app which is on My Weather Concierge. Download the app for free. Subscribe to my forecasts on an ad free environment for just 99 cents a month.
Get my forecasts in the palm of your hand for less than the cost of a cup of Joe!