Summer 2016 Ends Warm
Summer 2016 Ends Warm
Today is the last day of summer 2016 which will be remembered for how warm and dry it was with above normal temperatures, a very warm  August, one Tropical Storm threat, and the general lack of thunderstorms. We are still seeing moisture from the remnants of Tropical Storm Julia sitting to our south and throwing back high clouds to the coast. There is still rain to our south but that is not coming here. We look for clouds and some sun. Humidity levels are a little lower today and as this system eventually slides southward, we should see more sunshine (hopefully) as the day progresses.
Meanwhile in the lower corner of the satellite loop you can see Tropical Depression Karl which was downgraded overnight. The reason why is that upper low that is to the west of Karl. They have been essentially partnered for days now and that upper low continues to shear Karl apart. Global models have been forecasting this upper low to disappear and this has been totally wrong! You wonder how much of Karl will even survive over the next 2 days.

Radars remain quiet over us though some showers are actually showing up out in the ocean. We will see highs into the 80s though clouds could hold temperatures down some. Look for skies to clear out tonight and Thursday looks sunny and warm with highs in the 80s. Autumn arrives Thursday but the cool air advertised doesn't get here until Saturday.

Friday should see sunshine giving way to some clouds as a cold front arrives Friday night. There might be a shower when the front goes by. Then Saturday into Monday look to be sunny but cool with highs just in the 70s Saturday and only in the 60s on Sunday and Monday.
Longer range has become a bit complicated as the GFS model and to a lesser extent the European showing a deep trough forming to the west later next week. We will see how real this is but it could open the door to a few days of rain later next week. More on this later today. Bye Bye Summer 2016!
WINTER WEATHER OUTLOOK VIDEOS
In case you missed them I've been previewing the upcoming winter in a series of posts and videos. Here are the first 2. More will be coming along. Links to the latest posts are below.
NEW JERSEY
LONG ISLAND AND NEARBY
WINTER 2016-2017 PART 3 NEW JERSEY
WINTER 2016-2017 PART 1 OCEAN WATER TEMPERATURES
WINTER 2016-2017 PART 2 ARCTIC SEA ICE AND SIBERIAN SNOW COVER
FiOS1 News Weather Forecast For Long Island
FiOS1 News Weather Forecast For New Jersey
FiOS1 News Weather Forecast For Hudson Valley
LATEST JOESTRADAMUS ON THE LONG RANGE
Weather App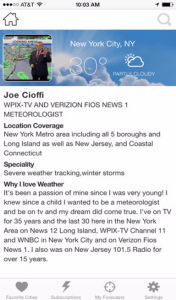 Don't be without Meteorologist Joe Cioffi's weather app. It is really a meteorologist app because you get my forecasts and my analysis and not some automated computer generated forecast based on the GFS model. This is why your app forecast changes every 6 hours. It is model driven with no human input at all. It gives you an icon, a temperature and no insight whatsoever.
It is a complete weather app to suit your forecast needs. All the weather information you need is right on your phone. Android or I-phone, use it to keep track of all the latest weather information and forecasts. This weather app is also free of advertising so you don't have to worry about security issues with your device. An accurate forecast and no worries that your device is being compromised.
Use it in conjunction with my website and my facebook and twitter and you have complete weather coverage of all the latest weather and the long range outlook. The website has been redone and upgraded. Its easy to use and everything is archived so you can see how well Joe does or doesn't do when it comes to forecasts and outlooks.
Just click on the google play button or the apple store button on the sidebar for my app which is on My Weather Concierge. Download the app for free. Subscribe to my forecasts on an ad free environment for just 99 cents a month.
Get my forecasts in the palm of your hand for less than the cost of a cup of Joe!
MENTION JOE CIOFFI AND GET A 5% DISCOUNT