Subtropical or Tropical Storm Development Possible
Subtropical or Tropical Storm Development Possible
Later this week after we see record highs for a couple of days we will start to shift our attention to the Southeast Coast of the U.S. southward into the Bahamas. We have been indicating that pressures across the subtropics from the Bahamas southward into the Caribbean are very low. It will be a matter of time before something spins up somewhere in that area. Right now the Bahamas seem to be the most likely place where something is going to develop. Right now the water vapor imagery shows disturbed weather increasing from the Bahamas southward into the Southern Caribbean. Originally models were pointing to this area for possible development but shifted northward over time.
Subtropical or Tropical Storm Development Possible
The visible satellite loop shows the areas as two separate entities. Given the time of year and the fact that this weather system if it develops may not have much time to strengthen, it is quite possible that we could wind up with something subtropical or a hybrid of some sort. Should a tropical system of some sort develop, if it tracks up the east coast it could bring some drought easing rains to areas from New Jersey to Southern New England that are suffering a severe drought. On the other side is a tropical storm in the Carolinas where the flooding continues as rivers continue to rise. Ideally anything moving up the east coast has to bypass the Carolinas and then bring rain from New Jersey northward. A tall order yes but not impossible.
MANY THANKS TO TROPICAL TIDBITS FOR THE WONDERFUL USE OF THE MAPS
WINTER 2016-2017 PART 1 OCEAN WATER TEMPERATURES
WINTER 2016-2017 PART 2 ARCTIC SEA ICE AND SIBERIAN SNOW COVER
WINTER 2016-2017 PART 3 NEW JERSEY PREVIEW
WINTER 2016-2017 PART 4 EASTERN PENNSYLVANIA PREVIEW
FiOS1 News Weather Forecast For Long Island
FiOS1 News Weather Forecast For New Jersey
FiOS1 News Weather Forecast For Hudson Valley
LATEST JOESTRADAMUS ON THE LONG RANGE
Weather App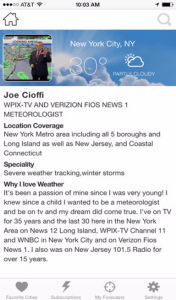 Don't be without Meteorologist Joe Cioffi's weather app. It is really a meteorologist app because you get my forecasts and my analysis and not some automated computer generated forecast based on the GFS model. This is why your app forecast changes every 6 hours. It is model driven with no human input at all. It gives you an icon, a temperature and no insight whatsoever.
It is a complete weather app to suit your forecast needs. All the weather information you need is right on your phone. Android or I-phone, use it to keep track of all the latest weather information and forecasts. This weather app is also free of advertising so you don't have to worry about security issues with your device. An accurate forecast and no worries that your device is being compromised.
Use it in conjunction with my website and my facebook and twitter and you have complete weather coverage of all the latest weather and the long range outlook. The website has been redone and upgraded. Its easy to use and everything is archived so you can see how well Joe does or doesn't do when it comes to forecasts and outlooks.
Just click on the google play button or the apple store button on the sidebar for my app which is on My Weather Concierge. Download the app for free. Subscribe to my forecasts on an ad free environment for just 99 cents a month.
Get my forecasts in the palm of your hand for less than the cost of a cup of Joe!