Subtropical Storm Nicole Forms Heading West Toward Florida
Cooler Air Sweeps Into The East Tuesday Into Thursday

Subtropical Storm Nicole has formed overnight east of the Bahamas and as you can see on the satellite loop, it does not have a truly tropical signature to it at this point. The system is elongated north south but we are seeing the beginnings of a developing core and it does have a well defined center. It is moving slowly northward as a cold front moves through the Northeast and Middle Atlantic states. This will turn Nicole westward and then southwestward and it is forecast to track toward the Northwest Bahamas and eventually making a possible landfall in South Florida Wednesday night or early Thursday. We will have more on this in a moment.
SATELLITE

WEATHER RADAR

In the meantime with our cold front moving through the Northeast and Mid Atlantic, it doesn't have much weather with it. We should see clouds and some sunshine today and temperatures today will still be on the warm side for one last time. Highs today will be in the warm low to mid 70s and there is the possibility of one more round of record high temperatures being set.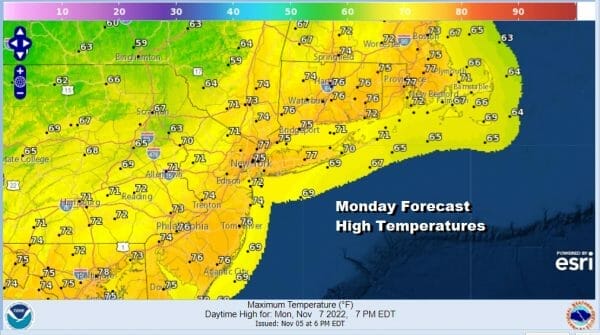 Tonight we will see skies clear out and we will start to turn noticeably cooler as lows drop to the 40s to around 50. A very strong high will be building into Upstate NY and New England for the next couple of days. This will take temperature back down to average for this time of year and in some cases a little below average. Look for sunshine Tuesday with highs just in the 50s.
Colder air will be moving southward on northerly winds Tuesday night and this leads us to a cold Wednesday morning. Lows away from the coast will be in the 20s to lower 30s while in warmer urban centers and along the coast we are looking at lows in mid 30s to near 40 degrees.

Wednesday will be a sunny day with highs in the 50s. Then we start to turn our attention to a cold front moving eastward from the Great Lakes and Mississippi Valley and Subtropical Storm Nicole which at this point will be nearing South Florida and probably making a transition into a tropical cyclone. It might even strengthen to a hurricane as it nears the coast.
Thursday brings the high to the coast. Nicole is moving across South Florida. We here in Eastern Pennsylvania to Southern New England will still see sunshine with highs back into the 60s. Then the question becomes how does Nicole interact with the approaching front from the west. It would seem that the front may have the upper hand here and that Nicole will turn north and than northeast along the Southeast Coast. While the core looks to pass to the east based on latest runs, the developing tropical environment in the East will bring showers later Friday and a steady potentially heavier rain Friday night into Saturday. Nicole will transition into a post tropical cyclone which means that the rain will expand to the west and stronger winds will be to the east but the details will depend on track going into this weekend.
We will have more on this on my weather platform on Patreon.
Please note that with regards to any severe weather,  tropical storms, or hurricanes, should a storm be threatening, please consult your local National Weather Service office or your local government officials about what action you should be taking to protect life and property.