Subtropical Storm Alberto Forms NW Caribbean Tropical Storm Watches Gulf Coast Later Today
Subtropical Storm Alberto Forms NW Caribbean
Tropical Storm Watches Gulf Coast Later Today
Satellite loops this morning show that the disturbed weather in the NW Caribbean is now reached sub tropical storm strength and thereby named Alberto. The structure of the system appears to have a sheared look to it though we are seeing some convection developing closer to the circulation center. Dry air is evident on the back side of the system as well.

The eastern side is seeing a gradual expansion showers and thunderstorms and they appear to be heading for South Florida. Heavy rains are likely to spread northward over Florida this afternoon and on Saturday as Alberto heads into the Gulf of Mexico

The threat to the Gulf Coast is also increasing from NW Florida to SE Louisiana later Sunday and Monday as Alberto crawls northward. Also there is time for this system to strengthen as conditions will be somewhat favorable over the weekend. Alberto will be in an environment of less wind shear and water temperatures that are in the lower 80s.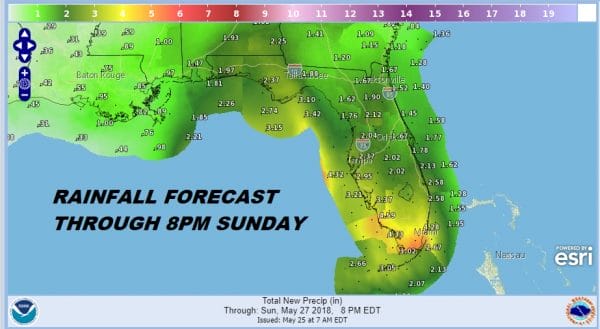 The major threat here remains rain and the rainfall amounts above are through Sunday evening and likely conservative for most areas. Often times local amounts can be easily double what is forecast. Alberto becomes the 3rd tropical or subtropical system to develop in the Atlantic Basin in the last 7 years. May is usually a quiet month with statistically 1 storm about every 10 years.
...PRE-SEASON SUBTROPICAL STORM ALBERTO FORMS OVER THE NORTHWESTERN
CARIBBEAN SEA...
...HEAVY RAINFALL EXPECTED TO AFFECT THE YUCATAN PENINSULA...WESTERN
CUBA...FLORIDA...AND THE NORTHEASTERN GULF COAST THROUGH THE
WEEKEND...


SUMMARY OF 1000 AM CDT...1500 UTC...INFORMATION
-----------------------------------------------
LOCATION...19.7N 86.8W
ABOUT 55 MI...90 KM S OF COZUMEL MEXICO
ABOUT 195 MI...315 KM SW OF THE WESTERN TIP OF CUBA
MAXIMUM SUSTAINED WINDS...40 MPH...65 KM/H
PRESENT MOVEMENT...NNE OR 20 DEGREES AT 6 MPH...9 KM/H
MINIMUM CENTRAL PRESSURE...1005 MB...29.68 INCHES


WATCHES AND WARNINGS
--------------------
CHANGES WITH THIS ADVISORY:

The Government of Mexico has issued a Tropical Storm Watch for the
east coast of the Yucatan Peninsula from Tulum to Cabo Catoche.

The Government of Cuba has issued a Tropical Storm Watch for the
western Cuban province of Pinar del Rio.

SUMMARY OF WATCHES AND WARNINGS IN EFFECT:

A Tropical Storm Watch is in effect for...
* Tulum to Cabo Catoche Mexico
* Cuban province of Pinar del Rio

A Tropical Storm Watch means that tropical storm conditions are
possible within the watch area, in this case within the next 24
hours.

Interests along the central and eastern U.S. Gulf Coast should
monitor the progress of Alberto. Tropical storm and storm surge
watches could be required for portions of this area later today or
tonight.

For storm information specific to your area, please monitor
products issued by your national meteorological service.


DISCUSSION AND OUTLOOK
----------------------
At 1000 AM CDT (1500 UTC), the center of Subtropical Storm Alberto
was located near latitude 19.7 North, longitude 86.8 West. The storm
is moving toward the north-northeast near 6 mph (9 km/h). A general
slow motion toward the north is expected through the weekend,
followed by a northwest turn by Monday. On the foreast track,
Alberto is expected to pass near the eastern coast of the Yucatan
peninsula tonight, be near the western tip of Cuba Saturday morning,
emerge over the southeastern Gulf of Mexico by Saturday night, and
approach the north-central Gulf Coast on Monday.

Maximum sustained winds are near 40 mph (65 km/h) with higher gusts.
Gradual strengthening is forecast for the next 72 hours.

Winds of 40 mph extend outward up to 115 miles (185 km) from the
center.

The estimated minimum central pressure is 1005 mb (29.68 inches).


HAZARDS AFFECTING LAND
----------------------
RAINFALL:  Alberto is expected to produce total rain accumulations
of 10 to 15 inches with isolated totals of 25 inches across the
northeastern portions of the Yucatan Peninsula and western Cuba.
These rains could produce life-threatening flash floods and
mudslides. Rainfall accmumulations of 4 to 8 inches with maximum
amounts of 12 inches are possible across the Florida Keys and
southern and southwestern Florida.  Heavy rain will likely begin
to affect the central Gulf Coast region and the southeastern Untied
States later this weekend and continue into early next week.
Flooding potential will increase across this region early next
week as Alberto is forecast to slow down after it moves inland.

WIND:  Tropical storm conditions are possible within the watch
area through Saturday.

SURF:  Swells generated by Alberto are affecting portions of
the coast of eastern Yucatan Peninsula and western Cuba.  These
swells are likely to cause life-threatening surf and rip current
conditions.  Hazardous surf conditions are likely to develop along
much of the central and eastern U.S. Gulf Coast this weekend. For
more information, consult products from your local weather office.
FiOS1 News Weather Forecast For Long Island
FiOS1 News Weather Forecast For New Jersey
FiOS1 News Weather Forecast For Hudson Valley
LATEST JOESTRADAMUS ON THE LONG RANGE