DOWNLOAD MY NEW FREE JOESTRADAMUS WEATHER APP FOR ANDROID

THE APP IS ABSOLUTELY FREE TO ALL BUT CONSIDERING SUBSCRIBING TO PATREON FOR A WEATHER EXPERIENCE FREE OF ADS, EXCLUSIVE VIDEOS FOR MEMBERS ONLY AND MUCH MORE…STARTS AT $2 A MONTH..MESSAGE ME AT ANY TIME
Strong Winds Cold Air Snow Possibility Weekend
After a night that produced heavy rain from thunderstorms (in January no less) now comes the end result. We have a strengthening storm in Northern New England that won't be going anywhere fast over the next 2 days. The satellite loop this morning shows a very well defined comma shaped signature developing. The pressure gradient between the low to the northeast and High Pressure building into Lake Superior is going to be very tight at least into early Friday. Look for us to blow away today with winds from the northwest at 20 to 30 mph with gusts approaching 35 to 40 mph all day long. While temperatures this morning still remain on the mild side in the lower 40s we won't be going anywhere today as cold air moves in from Northern Canada.
EASTERN SATELLITE

REGIONAL RADAR

We are also starting to see a very active lake effect snow machine getting underway and heavy snows will basically be downwind from the lakes. This spells heavy snow for parts of Southwestern New York, Western Pennsylvania south into West Virginia. Snow is also coming in the western side of the developing storm in New England. Clouds and some streamers on the radar will occasionally make to us from time to time today and Thursday.
LOCAL RADAR NEW YORK CITY
LOCAL RADAR PHILADELPHIA

The downtrend in temperatures will continue in stair step fashion. Thursday's highs will be just in the 30s. Friday and Saturday highs probably won't be getting out of the 20s and the same will hold for Sunday. Friday looks nice with sunshine as the wind finally eases. Then Saturday we have sunshine giving way to arriving clouds with highs in the 20s.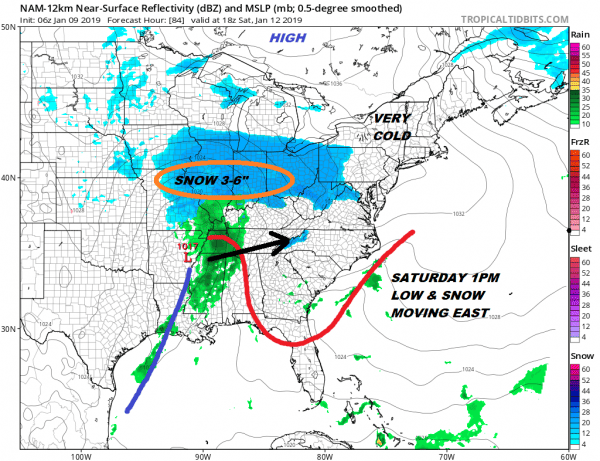 A tale of the split flow jet is being prepared for the weekend. The bottom part of the jet stream is producing low pressure that moves out of Texas and head sfor the lower Tennessee Valley while cold high pressure in Canada overwhelms everything from the Great Lakes & Northeast south to the Lower Ohio Valley and the Middle Atlantic states. There will be a band of moderate snows with this as it moves to the east. The issue for our area lies with the northern part of this jet stream in what is a "split" flow. Two separate jets both fighting for limited space.
It is sort of like merging into a highway with heavy traffic and a limited merge lane that is getting shorter and shorter. If you don't get in, you are likely to get squashed and this is the delicate balance that has to be contained. In instances for example when the northern jet pulls out too fast then you wind up with a low inland and snow changing to rain. That is not on the table here. It will be a matter of whether the southern shortwave will be able to withstand a strong northern jet trying to suppress. If it gives way a bit, you could see a stronger system further north. There will also be a sharp northern cut off to all this and the northern extent of the snow might not make it much further north than say Route 84 in New York and Connecticut. This is just an early guess on my part. New model runs are beginning as we search for trends and watching how it handles the two separate jets. The impact time would likely be sometime Saturday night into Sunday.
MANY THANKS TO

TROPICAL TIDBITS

FOR THE USE OF MAPS
Please note that with regards to any tropical storms or hurricanes, should a storm be threatening, please consult your local National Weather Service office or your local government officials about what action you should be taking to protect life and property.